Events
Short Term Training Programme on "Big Data Analytics for Business Intelligence" organized by the School of Computer, Information and Mathematical Sciences (SCIMS) from 16.12.2019 to 21.12.2019
The Short Term Training Programme was Inaugurated on 16.12.19, Dr.A.Azad, Registrar, presided over the Programme, Dr.D. Jairam, Professor from Indian Institute of Technology (IIT), Madras Inaugurated the Programme by giving the Inaugural address, Dr.Venkatesan Selvam Dean SCIMS Welcomed the gathering. Throughout the week Training Session was handled by the Speakers from the Industry (IBM, Agilisium), Institutions, the session is filled with participants from the various institutions and organizations. Dr.Pethuru Raj and the team of Reliance JIO Info-communications Ltd, Bangalore gave his insights on Apache Spark and Machine Learning training in the AWS cloud environment. Expertise from our own institute disseminated their knowledge and gave hands-on sessions on Geo-Spatial Data Analytics. Musical Data Analysis using MONGO DB and Genomics Data analysis using R programming. Dr.Pethuru Raj as Guest of Honor delivered the valedictory address and distributed the certificates to the participants.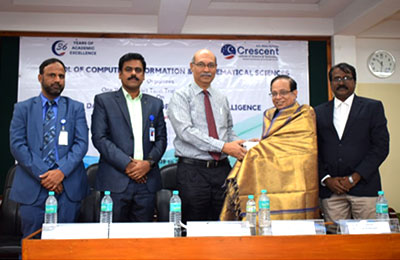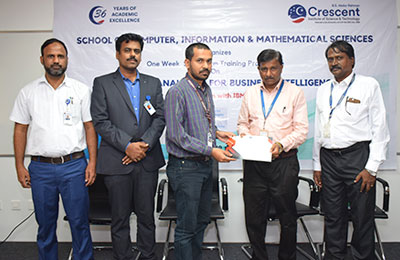 Click here for Programme Report
---
Society Inaugural function on 25th September 2019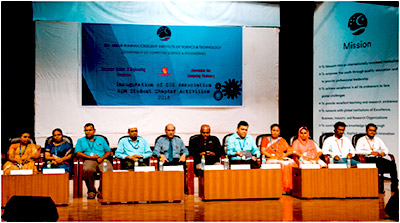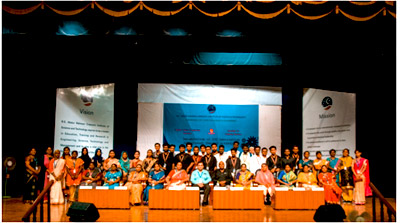 National level Technical Symposium ARCANE 2k19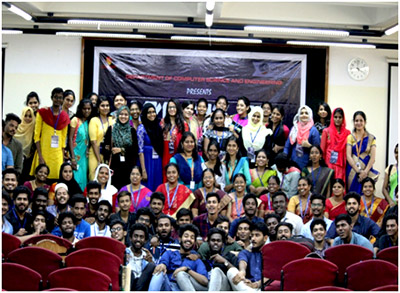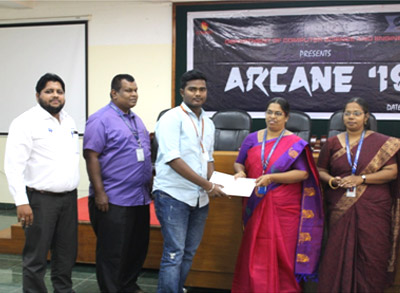 A training initiative of Pathfinder Enterprise Solutions Pvt. Ltd., to offer their course on Applied Data Science to our college students on May 6th 2019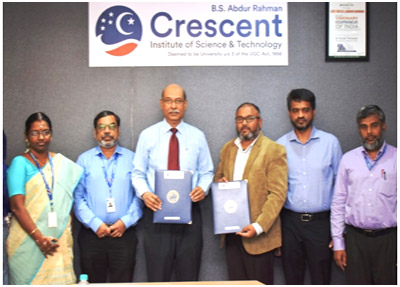 IBM Career Education Program Offers training and skills in latest technology and software. Opportunity to learn from practitioners from IBM industry, along with courseware from IBM. Co-market with IBM to promote programs, March 13th 2017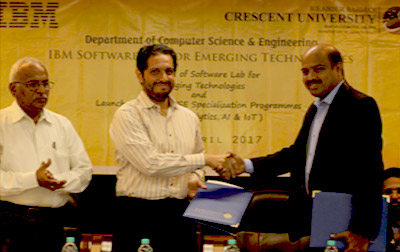 Workshop – Internet of Things by Dr.Kazuaki Tanaka, Assoc.Prof., Kyushu Institute of Technology,
Japan on 21st January, 2019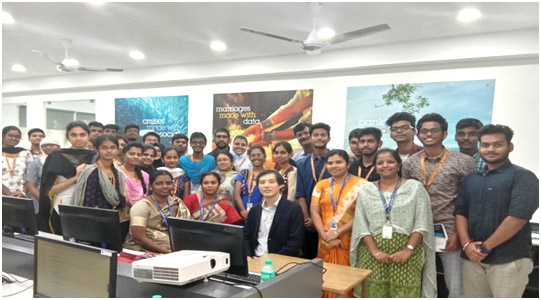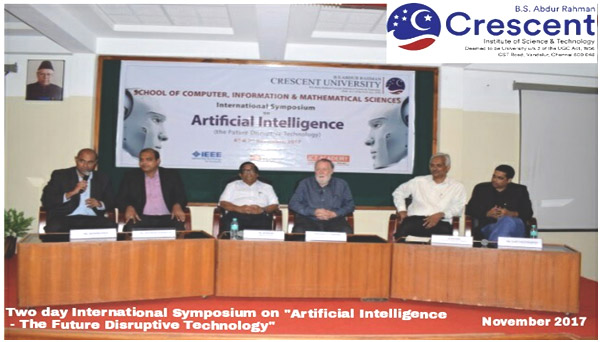 Consultative Meeting with Industry Professionals for Curriculum Revamping, February 2017
Inauguration of IBM Center of Excellence for Cloud Computing, April 2017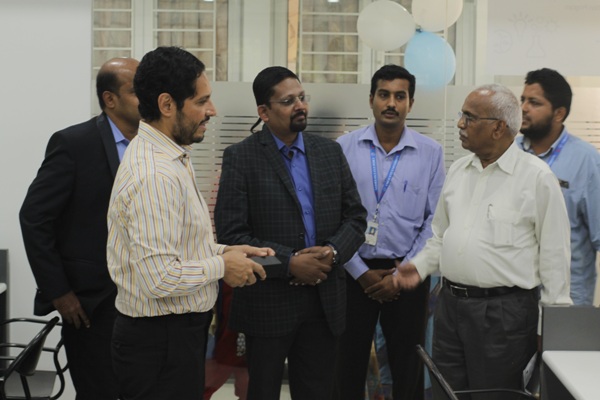 Department level Alumni meet, April 2017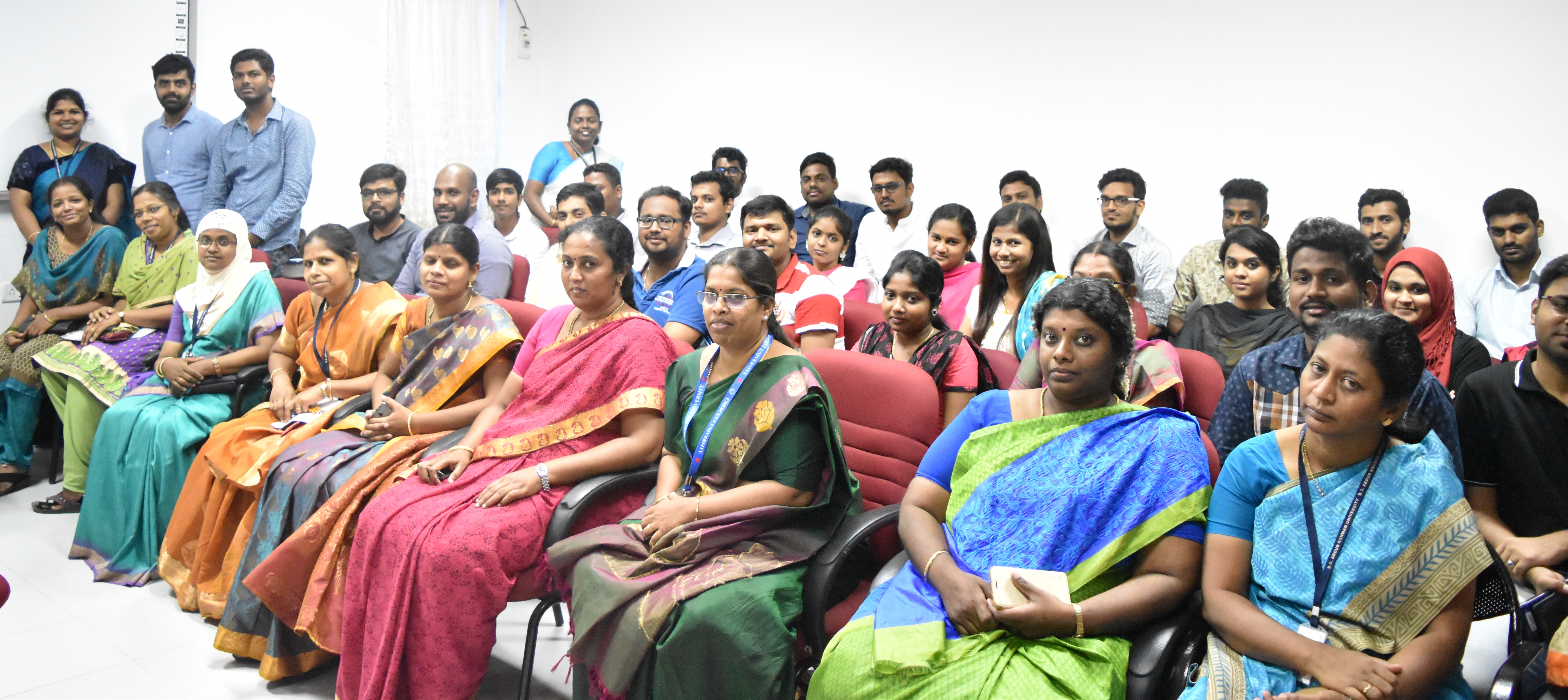 Eco Fest in view of Earth Day in Association with Green Club of Crescent Institute, April 2017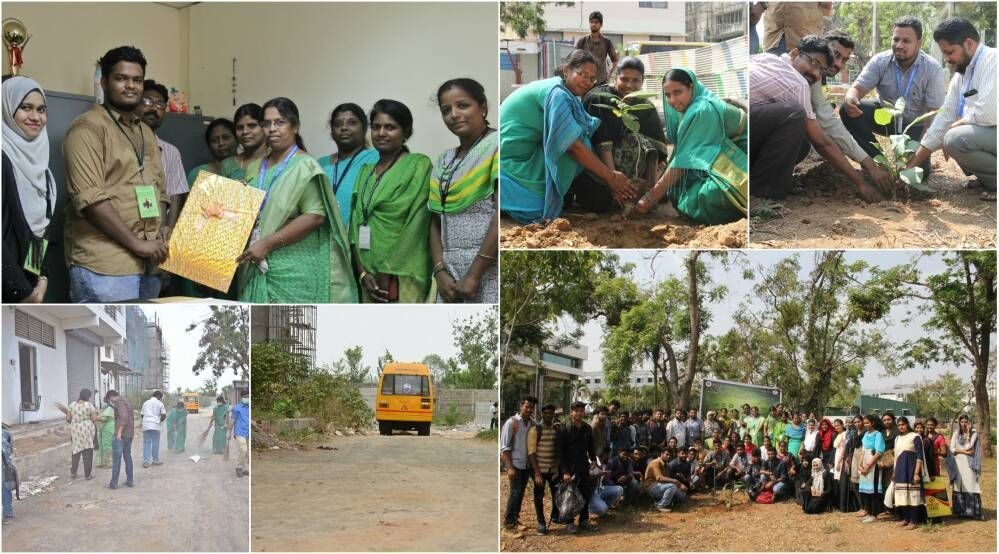 Faculty Internship in e- Attributes, Chennai, May 8 to May 19, 2017
A Special lecture on "Data Science & Big data", delivered by Mr. NicoDecourt, Staffordshire University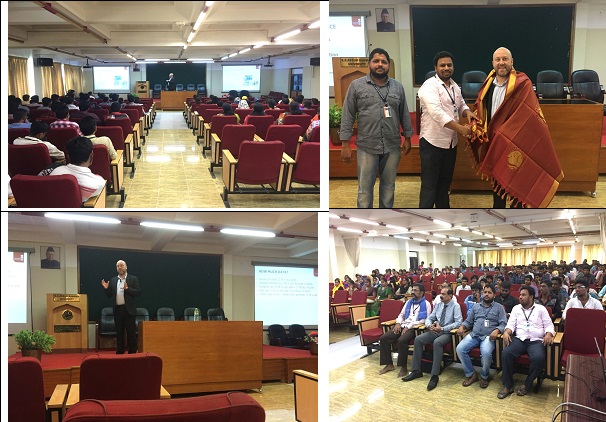 A Special lecture on "Game Changing Financial Technologies (FinTech)",delivered by Mr.M.Balasubramanian Founder-Target Technologies, Singapore & Director GCCOE, October 2016.
Seminars Organized 2013-2019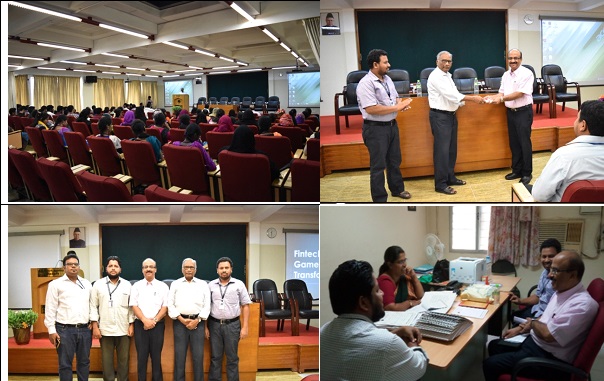 S.No
Co-Ordinators
Resource Person
Topic
Duration/Date
1
Convenor – Dr.M.Sandhya
Co-convenors – Dr.Sharmila Sankar, Dr.W.Aisha Banu
Co-ordinators – Ms.C.Vijayalakshmi, Ms.Sharon Priya, Ms.Sonya
Mr. Mohammed Rafi, D-Labs
Applied Data Science
28th January, 2019
2
Mrs.T.Nagamalar
Dr.S.Revathi
Mr. V. Ponraj,
Former Advisor to Late Former President Dr. APJ. Abdul Kalam
Scope and Challenges of Digital India
1 day
23 March 2017
3
Dr.R.Shriram
Mrs.S.Subhashini
Mrs.Radhika. A
Mr.R.Bhaskar
Director of Expandus Consultancy Services
How to Become Industry Ready
1 day
7March 2017
4
Dr.R.Shriram
Mrs.S.Subhashini
Mrs.Radhika. A
Dr.Kuppuswamy Kalyanasundaram
Founder – Project Madurai
Senior Scientist and Researcher, Swiss Federal Institute of Technology, Laussane, Switzerland.
Tamil Computing
1 day
3 March 2017
5
Dr.W.Aisha Banu
Mrs.S.Subhashini
Mr.Govind Murugan
Convener, Dhagam Foundation
Being Women
1 day
22 Feb 2017
6
Dr.R.Shriram
Dr.S.Revathi
Mrs.Subhashini
Mr.V.R.Anand
Consultant and Trainer
CPRO IT Sevices Pvt Ltd.

Chennai

Big Data in Action – Case Study
19 November 2016
7
Dr.K.M.Mehata
Dr.Aisha Banu.W
Mrs.Sharon Priya
Mrs.R.Narayani
Ms.R.Mythily
Mr.Sai Sumanth
Mr.K.Ramachandran
Opportunities in Big Data
1 day
March 3,2016
8
Convenor
Dr.Sharmila Sankar
Co-ordinator
Dr.W.Aisha Banu
Dr.S.Revathi
Sharon Priya
Mr.Santhanakrishnan.R
Principal-Knowledge Services
Analytics Practice of Infosys
Mr.Arun-8kMiles
Dr.Muthukumaran,
General Manager,HTC Global Services
Internal staff
Dr.W.Aisha Banu
Dr.S.Revathi
Mining Big Data In Social Media and Web<
2 days
August 27th -28th ,2014
9
Dr.Angelina Geetha
Mr.Imthyaz Sheriff
Mrs.A.Radhika
Mr.Dhian Singh & Mr.Shaklin
Director-Purna Career Solutions Pvt Ltd.
Working Towards A Better Tomorrow
1 day
March 18,2014
10
Dr.Angelina Geetha
Mr.Imthyaz Sheriff
Mr.Jainaressh,
Game Designer and Consultant,
Image Infotainment Pvt.Ltd.Chennai
Game Technologies
1 day
Oct 29th , 2013
11
Dr.Angelina Geetha
Mr.Imthyaz Sheriff
Mr.S.Kannan,
Application Architect,
Wisen Technologies Pvt.Ltd.Chennai
NoSQL
1 day
Oct 22, 2013
12
Dr.Angelina Geetha
Mr.Imthyaz Sheriff
Mr.Dhian Singh,
Director-Purna Career Solutions Pvt Ltd.
Mr.Murali Kumaraswamy,Chief Technical Officer-Purna Carrer Solutions Pvtd. Ltd.

ESE (Empowering Software Engineer – in You ) Jump Start

2 days
Jan 22-23,2013
Workshops Organized 2013-2019
S.No
Co-ordinators
Resource Person
Workshop Topic
Duration/Date
1
Convenor – Dr.M.Sandhya
Co-convenors – Dr.Sharmila Sankar, Dr.W.Aisha Banu
Co-ordinators – Ms.R.Akila Ms.A.Radhika
Kazuaki Tanaka, Associate Prof,Kyushu Institute of Technology, Japan
One day work shop on IoT
21st January, 2019
2
Convenor – Dr.Jaya, Dr.Sandhya
Co-ordinators – Mrs.Akila, Mrs.Madhina Banu
Mohammed Abubakar Gazali
IT tinkering Lab
3
Dr.W.Aisha Banu
Mrs.Sharon Priya
Mrs.Narayanai
Mrs.Subhashini

Ms.Shakthi Devi
Group Leader
NIIT Limited,Chennai
Machine Learning and Artificial Intelligence
1 day
23 March 2017
4
Dr.S.Revathi
Mrs.T.Nagamalar
Mrs.C.Kavitha
Analyst,Verizon
Olympia Tech Park

Software Development for Portable Devices using Android
1 day
20 March 2017
5
Dr.Sabiyath Fathima
Mrs.V.Muthupriya
Mr.B.Raja
Software Developer
Chennai Softech.
Mr.S.Sainath
Associate Software Engineer,
Gruppo Banca Sella

Big Data Analytics and Python Programming
1 day
18 March 2017
6
Dr.S.Aranganathan
Dr.E.Syed Mohamed
Mr.Syed Abdul Syed
Mr.Arunraj
Mr.Meeran Moideen
CEO, Three Tier Technologies
Mr.K.M.Hussain
Crescent School.Vandalur

Mobile App Development
Soft Skill
1 day
14 March 2017
7
Dr.Angelina Geetha
Dr.R.Shriram
Mrs.R.Akila
Mrs.T.R.Akila Devi
Mrs.A.Menaka Pushpa,
Teaching Fellow,
Dept of CSE,
Anna University
Data Mining Tools

15 November 2016
8
Dr.K.M.Mehata
Dr.Angelina Geetha
Mrs.T.R.AkilaDevi
Mr.C.Imthyaz Sheriff

Mr.Seshathiri
Vision Analytics
Chennai.

Analytics with R – Hands on Workshop
5 days
10 June – 14 June 2016
9
Dr.K.M.Mehata
Dr.W.Aisha Banu
Mr.Mukesh Mohania Mukesh Mohani
IBM Distinguished Engineer and Chief Architect for Education Transformation – IBM Research.

"New trends in Data Integration, Analytics and BI"
1 day
14 October 2015
10
Dr.Angelina Geetha
Mrs.R.Akila
Mrs.T.R.AkilaDevi
Mr.C.Imthyaz Sheriff
Dr.Swamynathan Sankaranarayanan,
Anna university,
Mr.Sundarrajan Mugunthan, Business Analytics Consultant, TCS, Mrs.Sandhya Gopalan,
HP Enterprises,
Mr.Vishnu venkayala,
CEO of Costomer Labs, Dr.Rangarajan,
Man Machine Systems

Analytics, Internet of Things and Web of Things
2 days.
6 & 7 October 2015
11
Dr.W.Aisha Banu
Mrs.Sharon Priya
Dr.T.V.Madhusudanan
Dr.S.P.Subramanian
Assistant Controller of Patents & Designs,
Chennai Patent office

"Awareness on Intellectual property rights
1 day ,
29 August 2015.
12
Dr.K.M.Mehata CDAC in association with BSAIST-organised at the School Level
Dr.D.Janakiram,IIT Madras Mr.CDAC in association with BSAIST-organised at the School Level

3 Days Hands On Training Workshop on BOSS-MOOL OS
3 days
Feb 16-18,2015
13
Dr.K.M.Mehata
Dr.Latha Tamilselvan
Mrs.S.P.Valli
Mrs.R.Priyadarshini
Ms.L.Shyamala
Research Scholar
Anna University

Cloud Simulator
1 day
October 9,2014
14
Dr.K.M.Mehata
Dr.Sharmila Sankar
Dr.M.Sandhya
J.Gayathiri
Mr.SB.Gowtham
Mr.M.Alex
Mr.M.Saravana
Datadotz Technologies,Chennai

Hands –On Training on Big Data-Hadoop
1 day
September 18 2014
15
Dr.Sharmila Sankar
Dr.M.Sandhya
Mrs.X.ArputhaRathna
Mr.Ankit Singh
RobasSapiens Technologies Pvt Ltd.

HackTrickz 2015
2 days
September 2nd -3rd 2014
16
Dr.K.M.Mehata
Dr.W.Aisha Banu
Mrs.Sharon Priya
Mrs.Pamela Anusha
Dr.S.Arunachalam
Professor,
University of East London,United Kingdom
International Workshop on How to do Ph.D to an International standard-an international perspective & How to publish articles in peer-viewed journals.
1 day
August 5,2013
17
Dr.AngelinaGeetha, Dr.R.Shriram Dr.W.Aisha Banu.
Dr.Iniya Nehru,NIC
In association with International Forum for Information Technology in Tamil (INFITT).
Two day Workshop on Tamil Computing
2 days
March 25-26 2013
Guest Lectures Organized 2013-2019
S.No
Co-ordinator
Resource Persons
Topic
Duration/Date
1
Co-ordinator: Dr.W.Aisha Banu
Mr. M. Joseph, ITK Education Service Pvt Ltd
A Deluge Talk
1 Day
5th March 2019
2
Dr.M.Sandhya
Mrs.X.ArputhaRathina
Mrs.S.P.Valli
Mrs.Bhuvaneswari Ganeshram
Director – Tanjore South Indian Restaurant,
Former Senior Team Lead, Telecommunications
Edinburgh, UK.

Owning Your Future-How to Become a Successful Entrepreneur
1 day
18 March 2017
3
Dr. Sharmila Sankar
Dr.E.Syed Mohamed
Mr.Syed Abdul Syed
Dr.Bogdan Ghita
Plymouth University
Prof Christopher David
McDermott Robert Gorden University
Dr.Frans Coenen
University of Liverpool
Dr. Mairo Kolberg-University of Sterling
Dr William
Univ. of Hertfordshire

Networking and Security
Internet of Things
A flavor of Data Analysis
Big Data
Cyber Security

Security Protocol Analysis
User Experience Essentials
Delay Tolerant Networking

1 day
25 Jan 2017
4
Dr.R.Shriram
Dr.E.Syed Mohamed
Mr.S.Syed Abdul Syed
Professor Nicolas Decourt,
Staffordshire University,UK
An Introduction to Data Science

16 November 2016
5
Dr.Syed Mohamed
Dr.Syed Abdul Syed
Mr.Imthyaz Sheriff
Mr.M.Balasubramanian Founder-Target Technologies, Singapore & Director GCCOE,Chennai
Game Changing Financial Technologies

27 October
2016
6
Dr.M.Sandhya
Mrs.S.P.Valli
Mr.S.Sankar Raj
Prompt Infotech
Ethical Hacking

1 day
14 October 2016
7
Dr.W.Aisha Banu
Dr.S.Aranganathan
Mrs.Saira Banu
Mr.V.R.Rajasekar
Belcrin Services,Chennai

IT Industry Requirement
1 day
13 October 2016
8
Dr.W.Aisha Banu
Mrs.Sharon Priya
Mr.Muthu Logan
CEO & Founder
Blue Zen Technologies

The Internet Of Things
1 day
1 September 2016
9
Dr.W.Aisha Banu
Mrs.S.P.Valli
Ms.Rashmi Mohan
Consultant Technolgist
ACM India Council
Industry Applications of Computer Vision

7 April 2016
10
Dr.R.Shriram
Mr.Vignesh Raj
Sheffield Hallam University,England

Speech Recognition in Tamil:A socio technological perspective
4 August,2015
11
Dr.R.Shriram
Brindha Merin
Mr.Madan U Sreenivasan, Co-founder, TechArtus Solutions, Chennai.

Design for Heterogeneous Environments – Myths and Realities
11 February, 2015
12
Dr.K.M.Mehata
Professor Alfred Fassier, University of Bern, Switzerland.
Introduction to Cryptography
28 January, 2015
13
Mrs.S.Subhashini
Mrs.T.R.AkilaDevi
Mr.H.Abdul Navas,
Assistant Manager
T.I.M.E Private Limited,Chennai

Opportunities for Pursuing Higher Education
1 day
March 4,2014
14
Dr.Angelina Geetha
Mrs.R.Akila
Mr.Syed Abdul Syed
Mr.Ibrahim Bari
Manager-IT Operations
Trimble Information Technologies,Chennai

Industry Practices in Cloud Computing
1 day
Feb 2nd,2014
15
Mr.T.Senthilkumaran
Mr.Veeralakumar
Mphasis-HP
Network Security
1 day
Nov 16,2013
16
Mrs.Akila
Mrs.Narayani
Ms.Vidhya,
Sales Manager,
VistaMind,Chennai
Importance of Higher Education
1 day
Oct 30,2013
17
Mrs.Chandrakala
Mr.Sakkaravarthi Ramasubbu
Capgemini India Pvt.Ltd.
Chennai
Industrial Insights in Software Engineering
1 day
Oct 29th,2013
18
Dr.W.Aisha Banu
Dr.Peter Jimack, Dean, University of Leeds
Development and Application of Efficient and Reliable Numerical Tools for simulation of Multiscale Phase Change Problems
1 day
15 March 2013
19
Dr.W.Aisha Banu
Dr.Jeremy Sunderraj,
Breakthrough Heights Managment Soulutions,Chennai.
Pursuit of Excellence
1 day
6 March 2013
FDP/SDP Organized 2013-2019
S.No
Co-ordinator
Resource Persons
Topic
Duration/Date
1
Co-ordinator Dr.M.Sandhya, Ms.Subhashini
Mr.Chandramohan, IBM Architect, Bangalore
IBM-DB2
5 days
2nd July 2018 to 6th July 2018
2
Dr.K.M.Mehata
Dr.S.Revathi
Mrs.Narayani
Mrs.Subhashini
Dr.Venkatesh Raman,IMSc
Dr.Sayan Battacharaya IMSc,Chennai
Dr.N.S.Naraynaswamy,IIT,
Chennai

Workshop on Algorithms – A Project Based Approach
5 days
Nov 8– 12,2016
3
Dr.K.M.Mehata
Dr.Sharmila Shankar
Mrs.S.P.Valli
Mrs.C.Hema
Mrs.S.Bagirathi
Dr.Venkatesh Raman,IMSc
Dr.Saket Saurabh,IMSc
Dr.Naraynaswamy,IIT
Dr.Meghana,IIT

A School on Algorithms and Techniques
5 days
July 22-27,2015