| | | |
| --- | --- | --- |
| Name | : | Dr.D Easwara moorthy |
| Designation | : | Professor & ISTD Co-ordinator |
| Qualification | : | M.Sc., Ph.D., |
| Office Number | : | 044-22751347 |
| Email ID | : | easwar@crescent.education |
Literary Club Activities
The Literary Club was initiated in the year 2006 under the ISTD Chapter, with the chief objective to hone the literary skills of the students. In addition, the Literary Club aims at enhancing the much required communication and soft skills of the students by means of giving them exposure to the various literary activities. Under the aegis of this Club, every year various literary contests like Creative Writing (English &Tamil), Mock GD, mock Interview, Just A Minute (JAM), Spin A Yarn, Shipwreck, Young Lawyers are conducted and Prizes are given to the winners on Literary Day – the Intra collegiate literary event. The Club encourages students to participate in inter-collegiate competitions also and exhibit their talents. Our students have won prizes in many competitions and brought laurels to our college. Litrapture, an annual inter-collegiate literary fest has been conducted since 2008. It offers an exciting forum for talented young minds to showcase their language and literary skills. Innovative events like Online Quiz, Block and Tackle, Adzap, etc. are conducted. A newsletter called Writers Inc. is also published every year, which enriches the students with the rich experience of bringing out a magazine for themselves and by themselves. This newsletter helps in uniting students through talent recognition and serves as an interface between seniors and juniors. On the whole, the Literary Club serves to shape the personality of the students and improve their employability skills.
---
Onam Celebration
Onam celebration is conducted on 19th September 2019 at our institution with various cultural performance followed by cultural activities along with our Honourable Vice Chancellor and Faculties.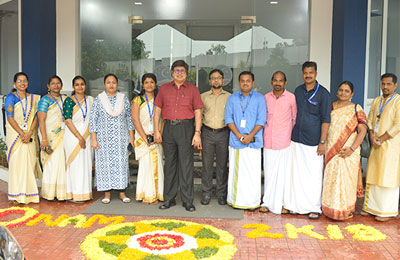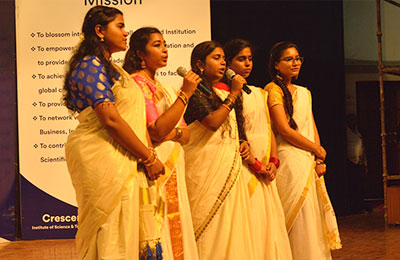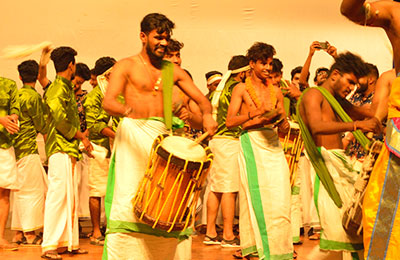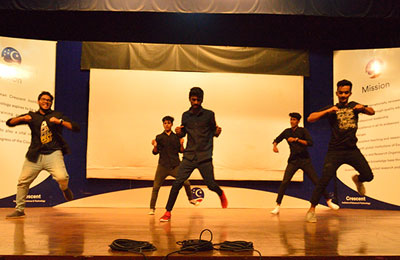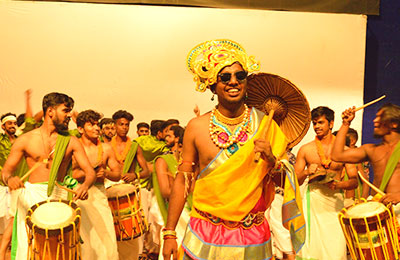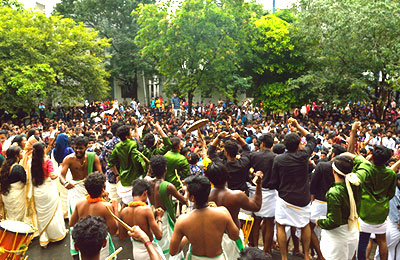 FEST O' CRES 2019 – ORION
The Third day of the 3-day Fest O' Cres Multi-cultural Fest of B.S.Abdur Rahman Crescent Institute of Science and Technology got successfully completed.. The students were overjoyed and the unity among the students fraternity was quite astonishing.. Crescent family wishes all the students success and joy in life..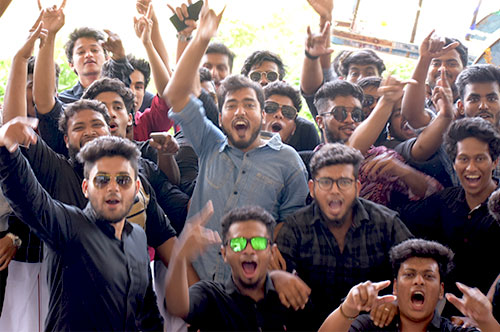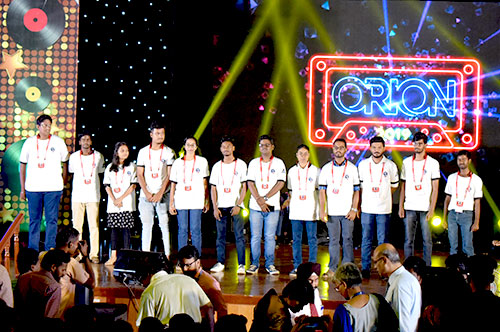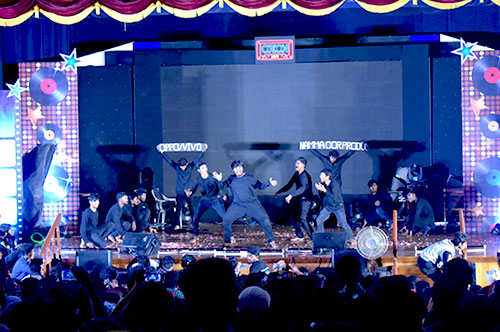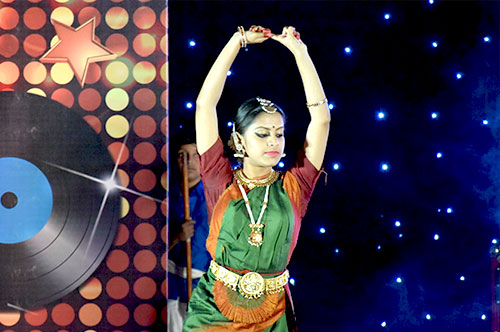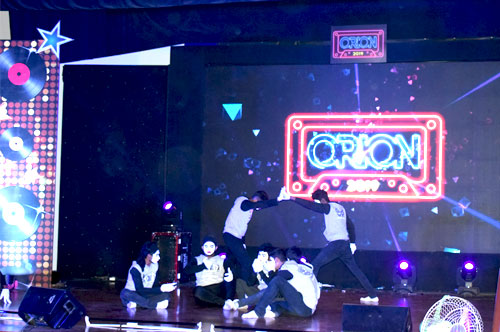 ---
Fest O' Cres, the multi-cultural event of Crescent varsity had its Second day today with excellent display of South Indian cultural display. The 3-day event has one more day left tomorrow and we expect more fabulous moments.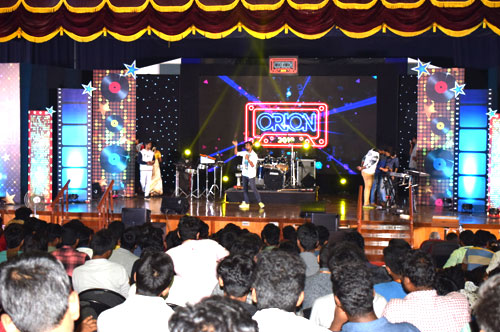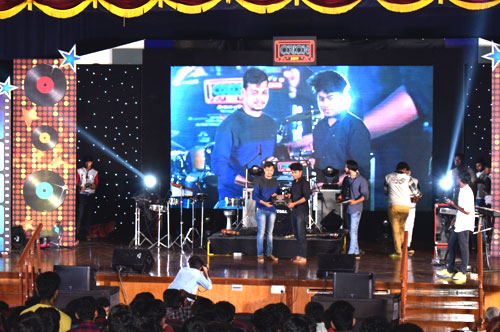 ---
FEST O' CRES 2019 – ORION, a 3-day multi-cultural event was successfully inaugurated today, 28.02.2019, with students displaying various interesting performances, loaded with variety of talents.. The students' happiness and excitement were fabulous and the entire Cresent varsity campus had a fun-filled day.. More Two days to come..!!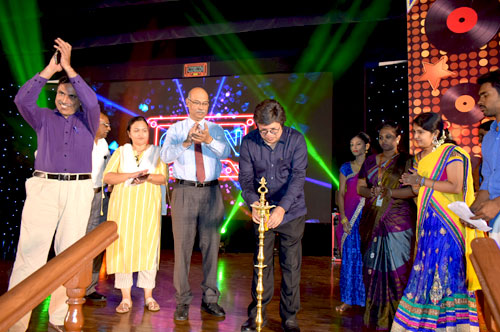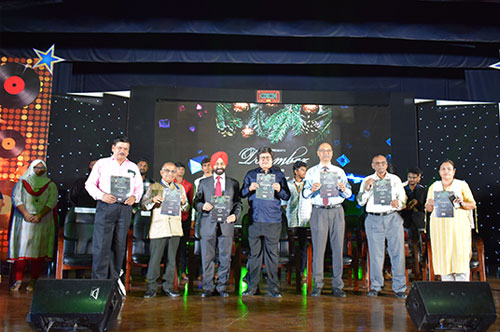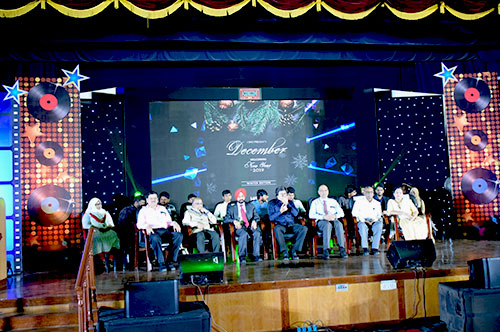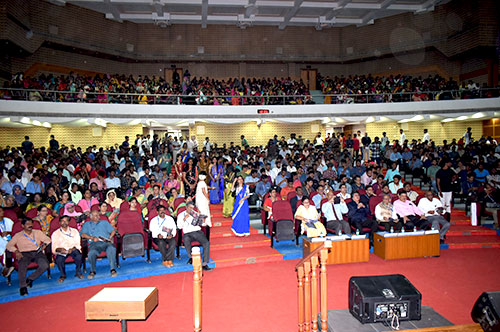 ---
ISTD- C and Crescent Literary Society aimed at instilling in participants a love for literature and nation
By celebrating National Unity and Literature day, curated with quirky competitions and lively demonstrations the power of imagination and creativity were at limelight on October 31, 2018. Writer's Inc. an exclusive student-run magazine September edition was released on this occasion.
On this occasion students and faculty paid due respect by taking the pledge on Rashtriya Ekta Diwas (National Unity Day) to foster and reinforce our dedication to preserve and strengthen Unity, Integrity, and Security of our Nation on the Birth Anniversary of Sardar Vallabhbhai Patel.
Registrar A. Azad and Major General Gurdeep Narang, Dean (Student Affairs), Dr.P.Rathna, Literary Club Coordinator made the event more memorable with their enlightened thoughts.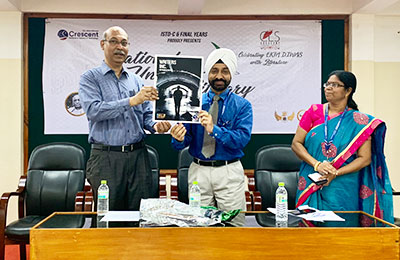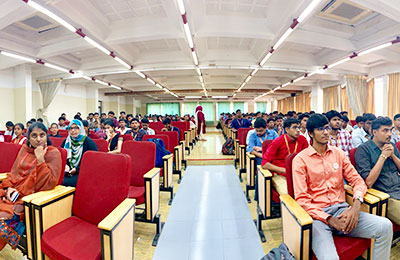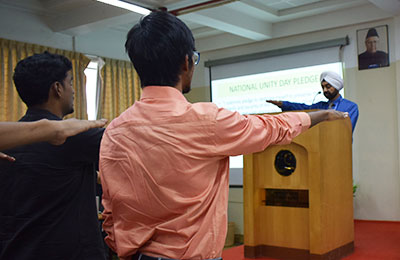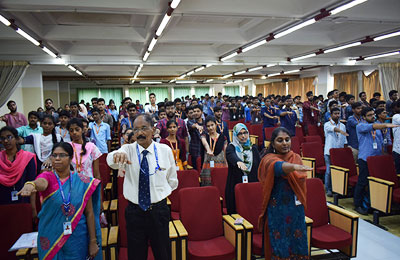 ---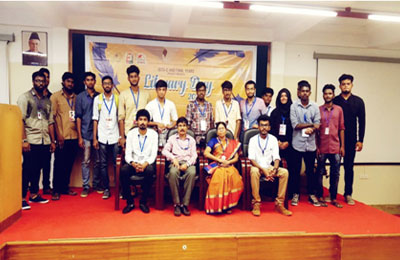 Literary Day 2017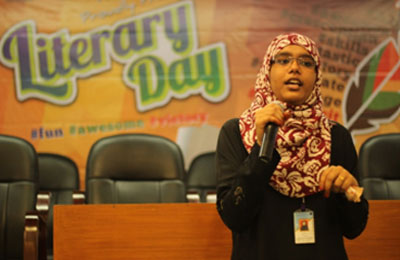 Literary Day 2016
---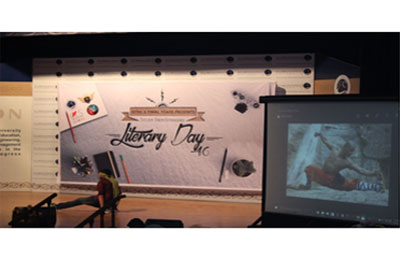 Literary Day 2015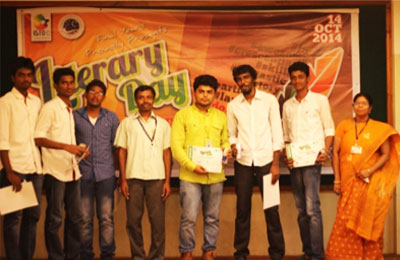 Literary Day 2014
ISTD ACTIVITIES FOR THE ACADEMIC YEAR 2013 – 2014
1.CRESTECH National technical symposium for the following departments was conducted on 1st, 3rd, 5th and 7th October 2013.The following departments were participated
CSE, EIE, AUTO 01.10.2013
MECH, EEE, AERO 03.10.2013
ECE, IT, POLY TECH 05.10.2013
CIVIL, CA 07.10.2013
2000 students from 100 different colleges had participated in the technical events like paper presentation, quiz competition, web designing, etc,…
2.Audition for "Fresh Face 2013" Organized by Times of India was conducted on 13th August 2013.
3.Literary Day 13 our institute literary fest was conducted by Literary Club of our institute on 4th September 2013. Around 300 students participated in various events. The following events were conducted on
"LITERARY DAY 13"
Jam
Dumb-C
Scriddles
Ship Wreck
Quiz
Block and Tackle
Script Writing
Caption it
Poem Writing
Stress Interview
Elevator Pitching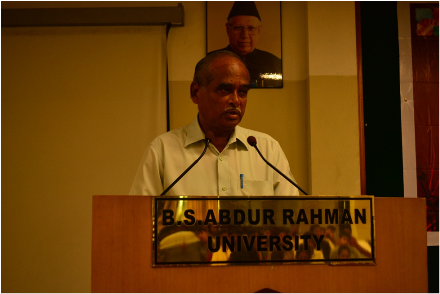 Pro Vice Chancellor Address the Gathering during the Inauguration of Literary day '13
---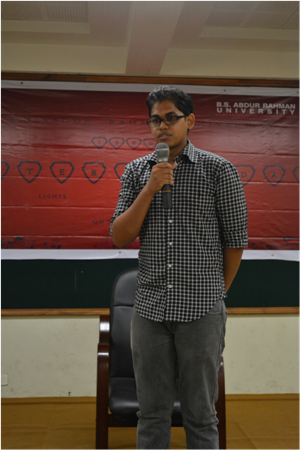 During the event "BLOCK AND TACKLE"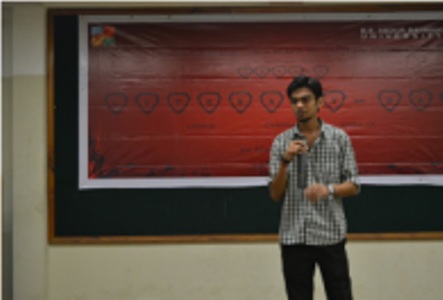 During the event "SHIPWRECK"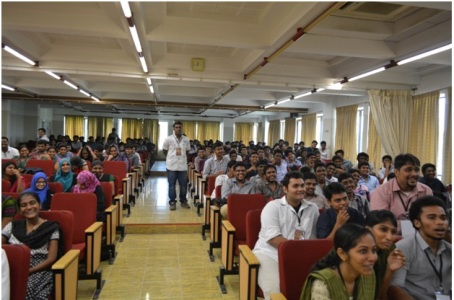 Participants of Literary Day '13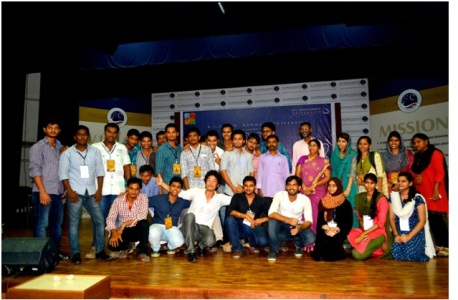 ISTD Team & Event Coordinators
during the Literary Day '13
4.Litrapture 13/14 – Chennai's official literary fest was conducted by Literary Club of our institute on 7th January.
The winners of Literary Day event had competed with the other college Students in Litrapture 13/14.
The following events were conducted on "LITRAPTURE 13"
Jam
Dumb-C
Scriddles
Ad zap
Ship Wreck
Quiz
Block and Tackle
Script Writing
Caption it
Poem Writing
Stress Interview
Elevator Pitching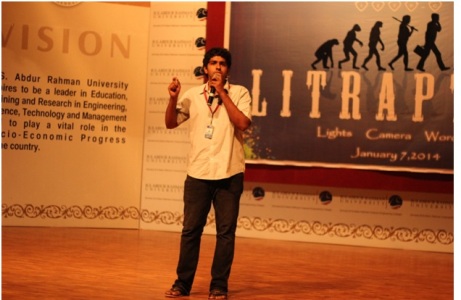 During the event "BLOCK AND TACKLE"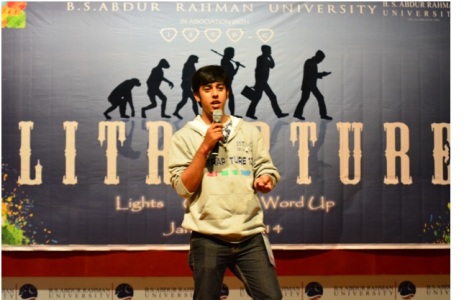 During the event "SHIPWRECK"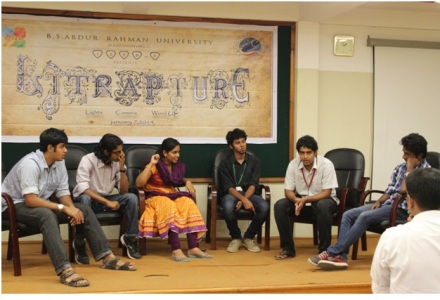 During the event "JAM"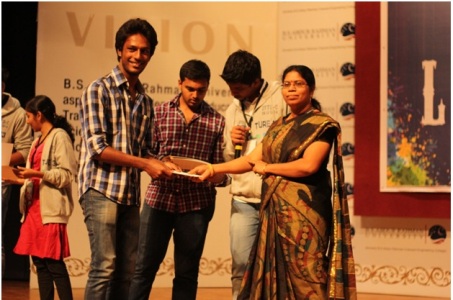 Prize Distribution by the Event Organizer during "LITRAPTURE '13"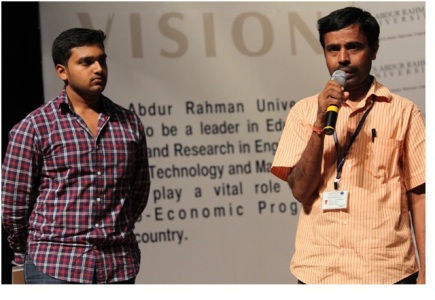 Vote of Thanks by our ISTD Coordinator during "LITRAPTURE '13"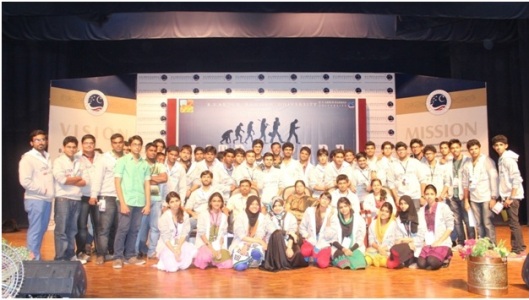 ISTD Team & Event Coordinators during the "LITRAPTURE '13"
5.CRESHUNT 14 – Talent Hunt Programme of our institute was conducted on 15th February 2014. This cultural event gives us a platform for showcasing the talents of our students, based on their leadership and organizational skills.
The following events were conducted on "CRES HUNT 14"
Solo Dance
Solo Singing
Solo Instruments
Acting
Fashion
Caption It
Short Film
Oration
Writing (Poem & Essay)
Art
6.ORION 2K14 – the Intra college cultural fest was conducted on 21st and 22nd March 2014.
The following events were conducted on "ORION 2K14"
Literary Events
Shipwreck
Jam
Dumb-C
Mock Interview
Campus Reporter
Entertainment Quiz
Informal Events
Face Painting
Hair Styling
Rangoli
Mehandi
Poster Design
T-Shirt Design
Treasure Hunt
Cartoon Sketching
Music & Dance Events
Solo Dance
Duo Dance
Group Dance
Solo Singing
Solo Instruments
Gaming
Counter Strike
Fifa
Need For Speed
Media Events
Short Film
Script Writing
Photography
Dramatics
Ad zap
Talent Show
Fashion Show
Variety Show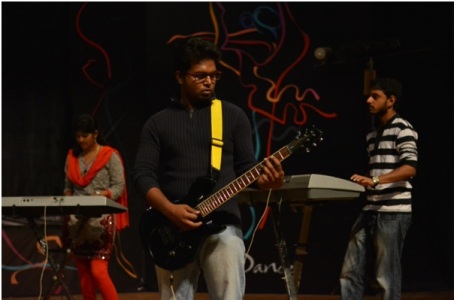 BSAIST-Performers Rocks the stage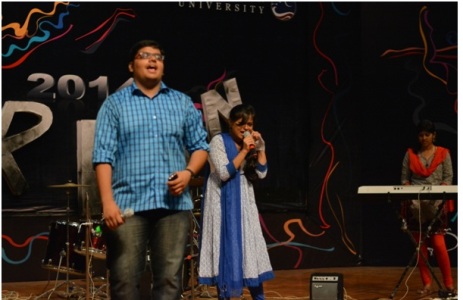 Crescent Music Band "Forte"
Getting High with its Performance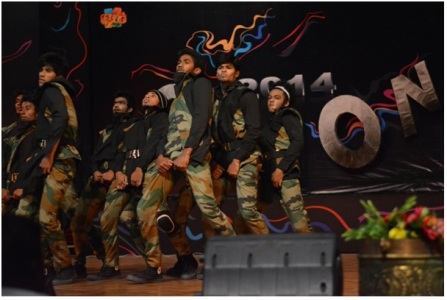 Crescent Dance Pro Team,
The Cres Crew (C Square) Taps on its Knees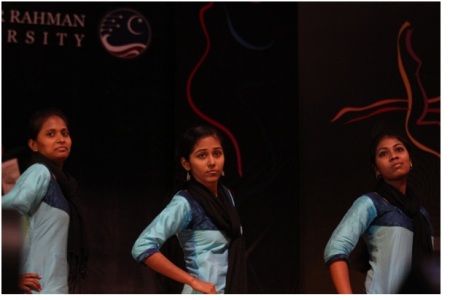 Final Year Girls Scintillating with their Bashing
Dance Moves
---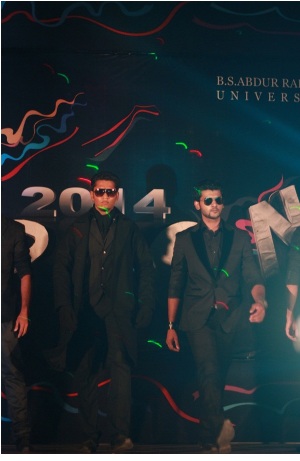 Crescent Pro Fashion Team Showing their Attitude engraved with Style
---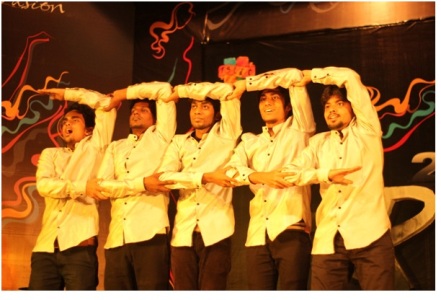 Participants during the Group Dance Event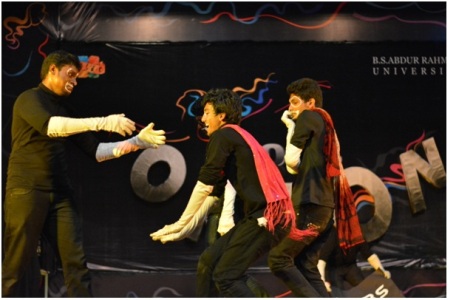 Participants during the event Variety show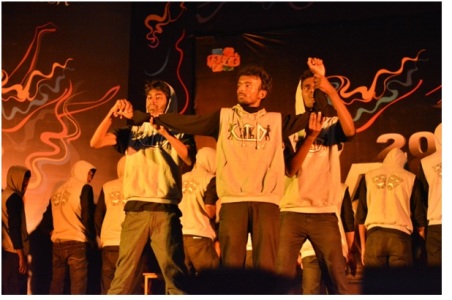 Hilarious and Humorous, Pro Variety Show by Crescent Team Dramatix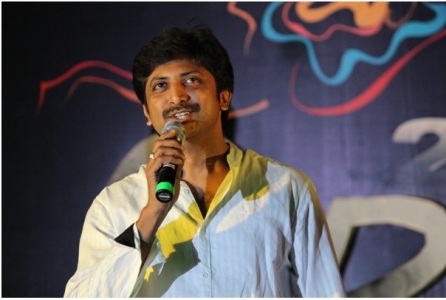 Director Jayam Raja Encouraging our Short Film Makers with His Motivational Words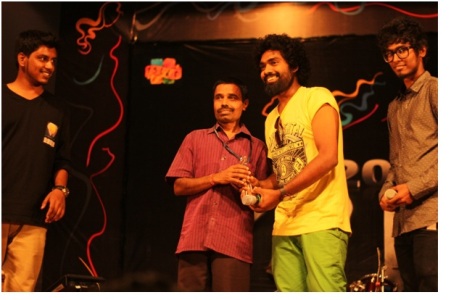 Actor Daniel (Sumar Moonji Kumaru) Getting his Memento from Our ISTD-C Coordinator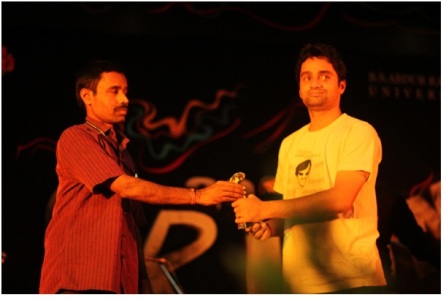 "INAM" Movie, Music Director Mr. Vishal Chandrashekar Getting Memento from our ISTD-C Coordinator
Activities During the year 2011 – 2012
CRESTECH 2011, a National level technical symposium was organized on 27.09.11, 29-09- 11, 30-09-11 and 01-10-11 by 9 Engineering departments. The societies of the various Engineering departments conducted events viz technical paper presentation, technical quizzes, design contests, robotics, debugging contests etc., for the participants students from other colleges.
Intra college event Literary Day which is a unique venture of ISTD was conducted on 25th August 2011and 60 participants participated. The events organized include such as JAM, Block and tackle, creative writing, shipwreck which were a huge hit and instilled in student's mind that literary can be fun too.
Inter college event Literapture '11 (a one day long literary fest aims at ameliorating the literary skills of the interested students by organizing events such as JAM, Mock Interview, Dumb-C, e-quiz and much more) was conducted on 15th September 2011. Where in students from various college in city and suburban participated.
Our students participated in the NOKIA GIZMOLORDS QUIZ, competing against 10 other colleges hosted by Mr.Rajiv Makhani from NDTV held on 9.11.2011 in our institute auditorium. Akshath and Bettu of second year Mechanical Engineering students performed outstandingly and won prize, NOKIA LUMINA 800 mobile each as the prize.
A group of 8 students from our institute took part in the debate show "Peridhinum peridhu kel" in Star Vijay TV held on 26th November and C.Praveena Reddy got the STAR SPEAKER award .
Inter college event Literapture '11 – a one day long literary fest which aims at ameliorating the literary skills of the students was conducted on 15th September 2011 which saw a massive response and participants from all our Chennai poured into B.S.Abdur Rahman Institute.
Short film team headed by Media Head Ejazith – got the first in CMC college and it was also nominated for the international short film competition.
Fashion team of our institute won 1st place in MMC and they bagged prizes worth 1 Lakh in December 2011 . They also won 3rd place in CMC.
Our institute Dumb c team won – first prize in CMC and 3rd prize at MMC in December 2011.
Two day Cultural Festival ORION was conducted on 9th and 10th March 2012.
Literary day was conducted on 30.08.12 for First year students comprising 200 participated and exhibited their talents in events like JAM, Ship wreck, Stress interview, Dumb-C, Quiz Block or Tackle, Short film, Creative writing
Litrapture 2012, an inter college literary programme was conducted on 18.09.12. 350 participants from 60 colleges participated. Students exhibited their talents in the events like Events JAM, stress interview, Dumb-C, Quiz Block or Tackle, Short film, Creative writing.
Audition for fresh face was held on 4th September 2012 conducted by The Times of India for our institute students. 150 students participated
Cultural programme was conducted on 14.09.12 in connection with National conference on Elctrochemist organized jointly by CECRI Karaikudi and department of chemistry of our institute
First year B.Tech Students will be participating in Radio Mirchi programme on 17.11.12
The following two clubs have been formed.
Photography club
Art club