National Science day celebrated on 21st February 2020
"Science of Today is the Technology of Tomorrow"
National Science day was celebrated by the School of Physical and Chemical Science on 21st February 2020. This day is celebrated to remember the great invention by the Indian Physicist Sir C.V. Raman who discovered "Ramans Effect".
The Chief Guest of the National Science Day, Professor V. Subramanian, Department of Physics, from Indian Institute of Technology, Madras, has delivered a lecture on the topic of "Nanomaterials for Electromagnetic application". Prof. Dr.V.Subramanian, started his lecture with an introduction to what Raman Effect and how it is used. He also explained about the photonic crystals, wave vector diagram, Maxwell's wave equation as a linear Hermitian Eigen value problem, Microwave microscopy and electromagnetic interference (EMI) shielding and how Nuisance level to life threatening and about electromagnetic (EM) threat perception that high power electromagnetic fields or magnetic fields through induction or spikes in power lines that cause damages to the lighting systems and TV sets during lightning.
Faculty from various departments, PG students and research scholars of both Physics and Chemistry attended the lecture.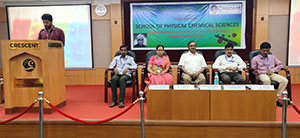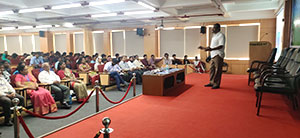 ---
National Conference
Two days National Conference on "Sustainable Clean Water Technology SCWT17" during 21-22 September 2017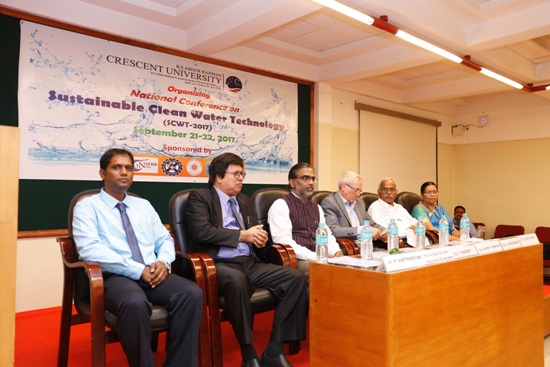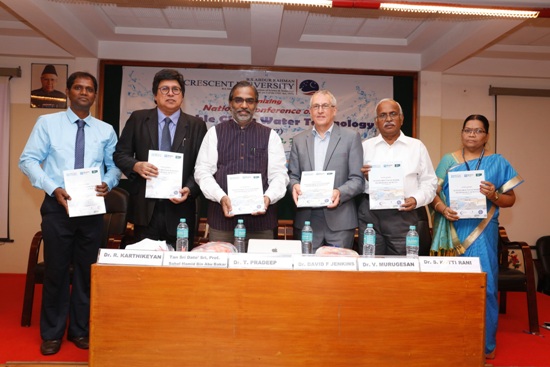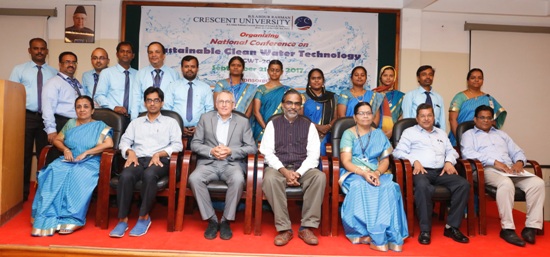 Seminars and Workshops
Summer Science Internship for School Students
A novel initiative by B.S. Abdur Rahman Institute for school students With a view to "Catch them young" the institute has selected 30 talented students from the creamy layer of passed out 10th std students from nearby schools in and around Vandalur area to create an aptitude and passion in science and build a career from it.   This Internship is arranged by B.S. Abdur Rahman Institute from May 4-22, 2015 as a social outreach programme for the benefit of semi urban and rural students in and around Vandalur.This Internship was offered free of cost and also met transport and other hospitality facilities
The objective of this programme was to expose the talented students about the latest inventions in science. Dr.S.Kutti Rani, Professor, Department of Chemistry  was appointed as a coordinator for this programme. 225 students from 45 schools in and around Vandalur area appeared for  Entrance examination which was conducted  on 13.04.15. Based on the performance in the entrance examination ,30 highly potential students were selected from 12 schools. During the Internship period the students listened to the lectures in contemporary topics of Physics, Chemistry ,Life Sciences ,Polymer Engineering and Nano materials in the forenoon delivered by eminent professors of B.S. Abdur Rahman Institute.  Through the lectures students understood the basic concepts and developed their intricacies of science concepts for technological development.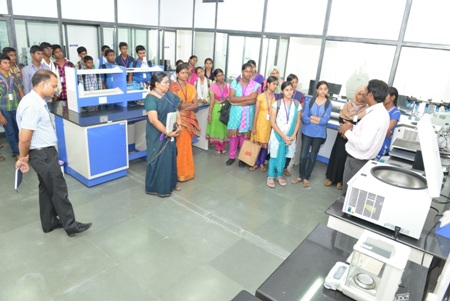 They got a special privilege to do a research project under the guidance of a senior professor from the institute and received hands on experience in the laboratory. The students were encouraged to prepare a project and to present the same in front of committee members.
The students have explored their talents through a power point presentation. Out of  30 students the following students have won the prize .
| S.no | Prize Details | Name of the Students | Department | Name of the school |
| --- | --- | --- | --- | --- |
| 1 | Ist Prize | Santhoshini.J | Life Science | Ebenezer Mat. School, New Perungalathur. |
| 2 | Ist Prize | Jagannathan.P | Chemistry | St.Anne's Mat.Hr.Sec. School,New Perungalathur. |
| 3 | IInd Prize | Gowri Manohari.S | Nano Centre | Sir Siva Swami Kalalaya School,Mylapore. |
| 4 | IInd Prize | Mohamed Sheik Mothi | Life Science | Alpha Mat.Hr. Sec.School, Sembakkam. |
| 5 | IIIrd Prize | Divya Lakshmi.K | Life Science | Sri Vishwa Vidyalaya Hr.Sec.School, Vandalur. |
| 6 | IIIrd Prize | Shaypriya.P | Chemistry | Srimathi Sundarvalli Memorial School,Chromepet. |
| 7 | Consolation Prize | Annaprabu.R | Physics | The Madras Seva Sadam Hr.Sec School,West Tambaram. |
Dr.S.Kutti Rani
Coordinator
By the Department
National Seminar on Emerging Trends in Solar Energy (ETSE-2013) on 23rd October 2013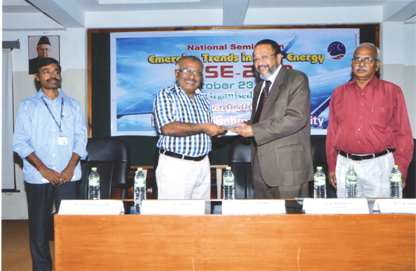 Workshop on Instrumental Techniques on Chemical Research (ITCR-2012) on 23rd and 24th February 2012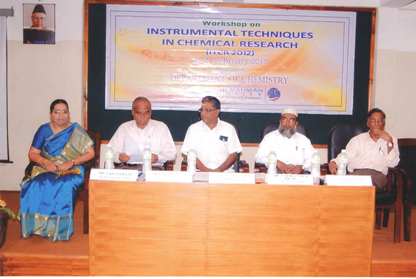 In association with
Polymer Nanotechnology Centre, Polymer Engineering, Physics and School of Life Sciences
International Conference on Nano Materials: Science, Technology and Applications (ICNM-13) during 5th to 7th December 2013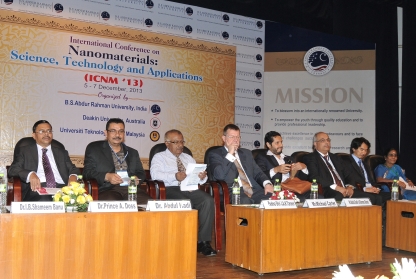 Central Electro Chemical Research Institute (CECRI) Karaikudi
National Convention of Electrochemists (NCE-17) during
14th and 15th September 2012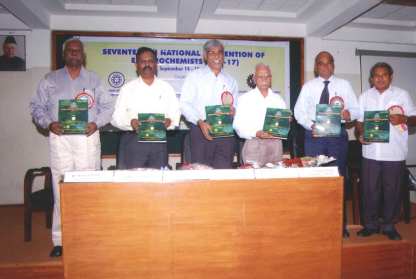 Other Programmes
For M.Sc. Chemistry Students
(Association with Ramasubbu Jayaram Science Foundation)
Refresher programme for aspirants of CSIR-JRF/ SLET
20th May to 1st June 2013
14th to 26th May 2012
For B.Sc. Chemistry Students
(State Level)
Intercollegiate quiz and chem tune
30th January 2014
For B.Sc. Chemistry Students
(State Level)
Intercollegiate quiz programme
12th February 2013
For BE/B.Tech. Students
(National Level)
Crescience-2014
28th February 2014
For BE/B.Tech. Students
(National Level)
Crescience-2012
28th February 2012
For BE/B.Tech. Students
(National Level)
Crescience-2009
22nd April 2009