Infrastructure
The department has sufficient number of well equipped class rooms, fully equipped laboratories with state of the art software and equipments, seminar hall, department library as highlighted below.
CLASS ROOMS
The department has required number of class rooms for all the U.G and P.G. courses, with an air-conditioned conference hall, seminar hall and a department library.
UG & PG Class Rooms : 10 Nos
Drawing Halls: 4 each seating capacity 80
Air-conditioned Conference Hall : 100 sq.m
Seminar hall with 120 seating capacity
Department Library
15 well equipped Laboratories of Total area 2,800 sq.m
HOD office and Faculty rooms
The Department has,
200 Computers
14 LCD Projectors for lectures and seminars
Internet facility with WiFiconnectivity
The Faculty Rooms and All Laboratories are interconnected through LAN
LABORATORIES
The department has well equipped laboratories and workshops. The following are some of the important laboratories and workshops:
CAD Lab
CIM Lab
Dynamics Lab
Fluid Mechanics & Machinery Lab
Machine Shop
Mechatronics Lab
Metrology Lab
Material Testing and Characterization Lab
Surface Engineering Lab
Thermal Engineering Lab
Basic Workshop
Design Appreciation Lab
Friction Materials Lab
Professional Welding Lab
ROBO Lab – 4.0
Some of the major softwares available are given below:
| | |
| --- | --- |
| PTC/ Creo 5 | 500 users |
| Siemens NX 12.0 | 30 users |
| ANSYS 2020 Campus solution | 100 (Teaching version) + 10 (Research version) |
| HYPERWORKS 2017 | 250 units |
| LS-DYNA 971_R7 | 2 users |
| Mat lab V8 R 2013 a | 100 users |
| LabVIEW | 15 users |
MACHINE SHOP
The Machine Shop provides knowledge on the various lathes , special machine tools and their attachments and various operations performed on them. The major mabhine tools and equipment avaialbe are:
Lathe Machines (Center, Capstan, Turret,and Semi-Automatic types)
Milling Machines,
Grinding Machines,
Shaper Machine,
Slotter Machine,
Drilling Machines And
Electrical Discharge Machine (Edm)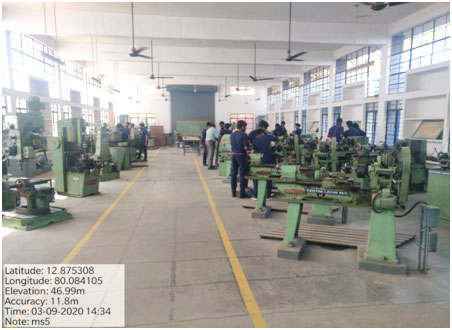 METROLOGY LABORATORY
The Metrology lab houses instruments and tools to understand both experimental and theoretical measurements and determinations of uncertainty level in manufacturing products. Metrology lab is equipped with basic measuring instruments such as
Micrometer
Vernier
Dial Gauge
GO-NO Gauges
Mechanical And Electrical Comparators
Profile Projector
Tool Makers Microscope And
Co-Ordinate Measuring Machine (CMM).
The calibration exercises for the students make them find the standard error involved in the measuring instrument using a set of slip gauges. This lab extended its usage in the research for analyzing the surface roughness using a stylus and through image processing.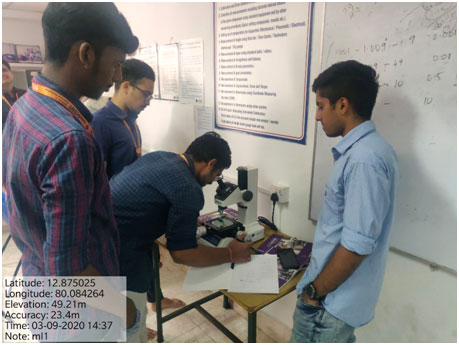 MECHATRONICS LABORATORY
This lab imparts skill and knowledge on modular automation systems by implementing the automation skills achieved from the basics of PLC. This lab also consists of fluid power systems which contain basic pneumatic trainer kit, electro-pneumatic trainer kit, and hydraulic trainer kit.
CIM LABORATORY
The purpose of this lab is to familiarize the programming techniques in CNC part programming through Siemens NX Software Package. This lab is offered to both undergraduate as well as postgraduate-level studentsThe major Equipment are
CNC Turning Center
CNC Vertical Machining Center and
3D Printer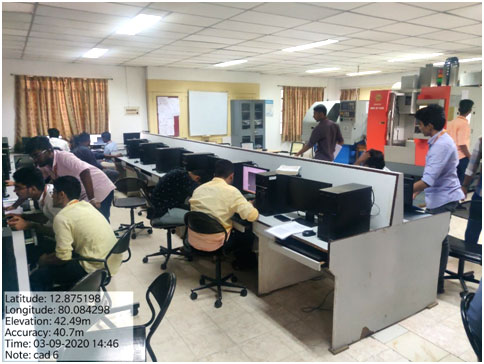 THERMAL LABORATORY
This lab has two divisions namely thermal engineering and heat & mass transfer for the undergraduate students. This lab is equipped with Engine Testing Facility anddifferent types of IC engines to measure various parameters of engines. Cut section models of four-stroke and two-stroke engines are available to facilitate understanding of valve and port openings. Different fuel testing equipment is available to measure calorific value, viscosity, flash point, fire point, pour point of any fuel. This lab is also intended for the students to understand the various modes of heat transfer principles.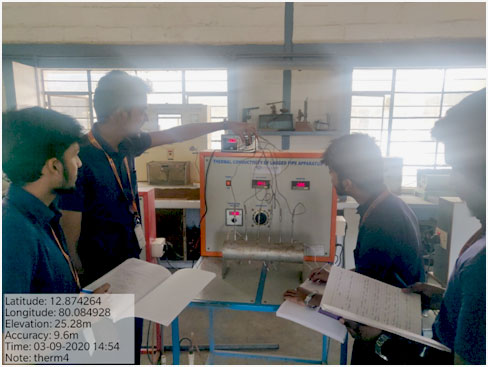 FLUID MECHANICS LABORATORY
This lab is offered to the undergraduate students of different streams of engineering . The main purpose is to understand and demonstrate their knowledge gained from the fluid machineries. The laboratory consists of experiments related to flow measurements using different devices and related to losses in pipes. The performances and efficiency of various (Centrifugal, Gear, Jet, and Reciprocating) pump and various types of turbines (Peloton wheel turbine, Francis turbine, and Kaplan turbine)are also measured and demonstrated.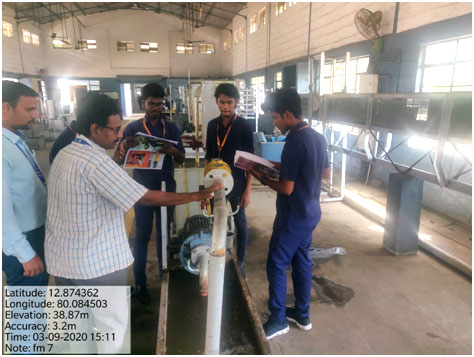 MATERIALS TESTING LABORATORY
The Material testing Laboratory offered for undergraduate students to understand the metallurgical analysis techniques. The lab is equipped with metallurgical microscopes, hardness tests for different ferrous and non-ferrous metals. This lab also used to measure the mechanical properties of ferrous and non-ferrous Metals by performing tensile and impact tests.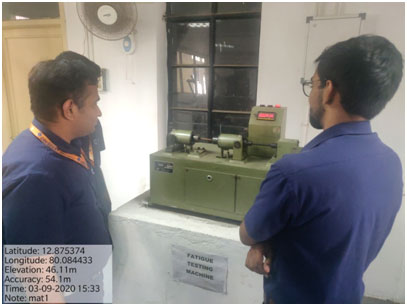 DYNAMICS LABORATORY
The objective of the lab is to understand the static force and dynamic force analysis and to study the undesirable effects of imbalances in rotors and engines. The lab is also used to understand the concept of vibratory systems, their analysis, and the principles of control devices such as Governors and Gyroscopes.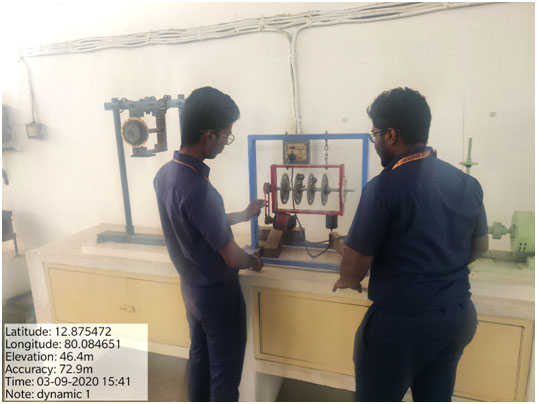 SURFACE ENGINEERING LABORATORY
Tribology is an important domain of science that deals with the behavior of interacting surfaces-associated practices, and mainly emphasizes on the phenomenon of friction, wear, and lubrication. Our surface engineering laboratory equipped with a pin on disc machine for wear analysis and optical microscope for wear track analysis. The pin on disc is used to characterize the tribological features of bulk materials, coatings and lubricants accurately. This lab is offered to research purposes.
DESIGN APPRECIATION LABORATORY
The Design Appreciation Lab has products and subassemblies like Worm gearbox, pneumatic double acting cylinder, external gear pump, internal gear pump, centrifugal pump, rotary pump, and two-stage pump. These products are dismantled and re-assembled by the students. In this process, they learn the functioning of the product, materials used and tools with their specifications used for dismantling and assembly. This lab is offered for undergraduate mechanical engineers in the second semester itself.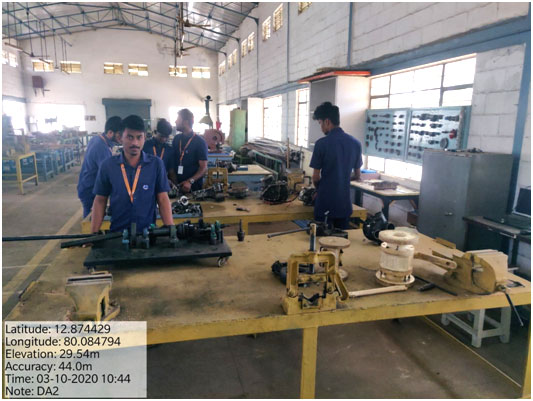 CAD LABORATORY
CAD lab is offered to undergraduate and postgraduate students to get professional training on 2D & 3D engineering drawings using the latest version of software packages. Students also learn the structural analysis of various components. This lab consists of
PTC/Creo 5.0 : 500 users
Siemens NX CAD/CAM 12 : 30 users
ANSYS 2020 (Campus solution) : 10/100 users
HYPERWORKS 2017 : 250 units
LS-DYNA 971_R7 : 2 users
Mat lab V8 R 2013 A : 100 users
Lab VIEW : 15 users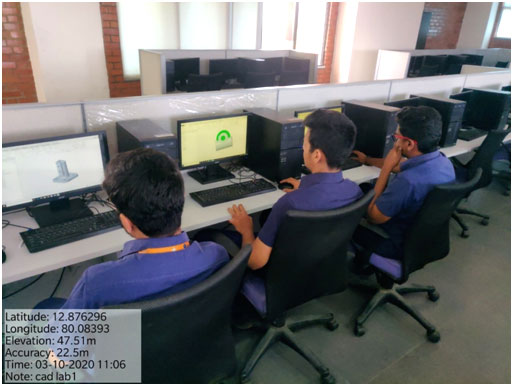 ENGINEERING PRACTICE LABORATORY
This lab is offered as a central facility for all first-year undergraduate students and administered by the Department of Mechanical Engineering. This Engineering practice laboratory is equipped with bending machines, anvils, and welding machines to understand the principles and to fabricate various engineering components.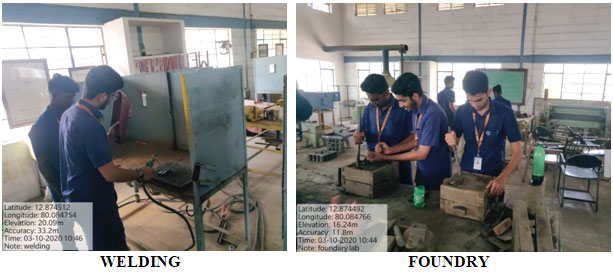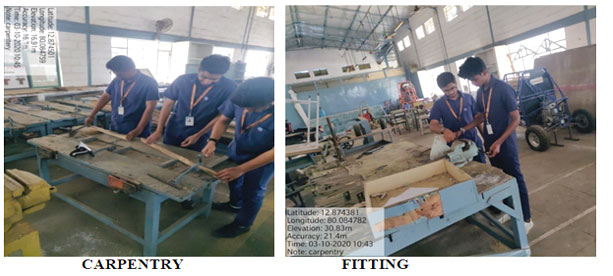 FRICTION MATERIALS LABORATORY
The friction materials Lab is established in November 2019.The lab is used to determine the wear rate of each brake pad at different brake disc speed and the applied force on the brake pedal.It is used to evaluate the braking effectiveness of each brake padin terms of stopping time.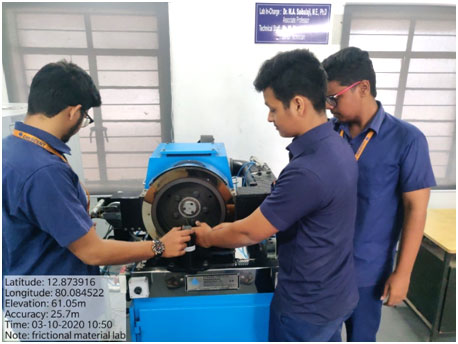 ROBOTICS LABORATORY
The Robotics lab is established in association with Pragrobotics Pvt. Ltd. Chennai and it has 37 computers and a robot for welding application., This lab also offers value added programmes in Artifical Intelligence, Machine Learnng and Robotics.
PROFESSIONAL WELDING LABORATORY (PWL)
The professional welding lab (PWL) equipped with modern welding equipment is established in March 2020 in association with FRONIUS India.PWL is a facility or an entity that provides best practices, Hands-on training, technical support, Know-how about the latest trends and superior technology in the area of welding.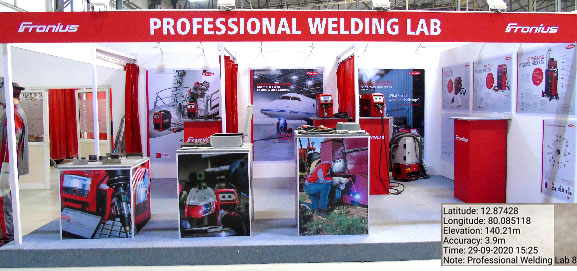 Some of the major equipment available are given below:
CNC Turning Center
CNC Vertical Machining Center
Surface Roughness Tester
Coordinate Measuring Machine
Vision System
AE with Digital Scope & GPIB interface
Ultrasonic flaw detector
Pin on Disc Wear Tester
Salt Spray Corrosion Apparatus
Vibration Sensors, shakers and DAQ
Cryogenic Treatment Chamber
Engine Testing Facility
Engine Exhaust Emission Tester
Electrical Discharge Machine
Chase Testing Machine
Olivetti S2 – 3D Printer
MMAW Machine
GTAW Machine
GMAW Machine
ABB Industrial (Welding) Robo.