INFRASTRUCTURE
The department has sufficient number of well equipped class rooms, fully equipped laboratories with state of the art software and equipment, seminar hall, drawing hall and department library.
UG Class Rooms: 7 Nos
PG Class Rooms: 2 Nos
Exclusive U.G. & P.G. A/C. computer laboratory with 100 computers.
Air-conditioned conference Hall
9 well equiped Laboratories
HOD office and Faculty rooms
Teaching aids like smart board, OHP, explanatory models & charts, etc
LABORATORY FACILITIES
The Department has the following laboratories adequately equipped with latest equipments and software packages:
Structural Engineering Laboratory
Construction Material Laboratory
Strength of Materials Laboratory
Concrete and Highway Laboratory
Geotechnical Engineering Laboratory
Computer Laboratory
GIS & Remote Sensing Laboratory
Environmental Engineering Laboratory
Survey Laboratory
STRUCTURAL ENGINEERING LABORATORY
Area – 253 sq. m.
Name of Equipment
Universal Testing Machine with Computer Interface -100 ton capacity
Rebound Hammer
Hydraulic Jack – 40 t capacity
Beam loading frame – 100 ton capacity
Column loading frame – 100 ton capacity
Hydraulic Stacker
Accelerated corrosion testing facility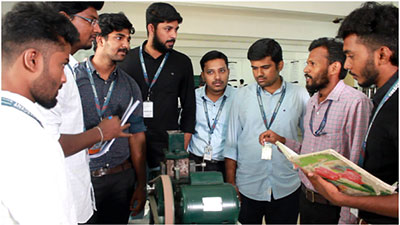 Mortar Compactor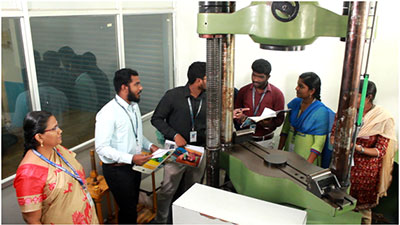 Universal testing machine 100 T
CONSTRUCTION MATERIAL LABORATORY
Area – 500 sq. m.
Name of Equipment
5 TON Capacity Column Loading Frame
Permeability Test Apparatus
Flow Table for Workability Studies
Accelerated Corrosion Testing Apparatus
Rapid Chloride Penetration Test (RCPT Apparatus)
Coating Thickness Meter
Self Compacting Concrete Testing
Half Cell Potential Measurement
2V Impressed Voltage Testing Facility
Facility for Macro cell Corrosion Study
Marsh Cone Test Apparatus
Mortar Mixer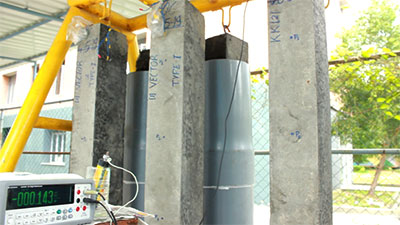 Testing of Specimens
Flow Table Test
STRENGTH OF MATERIAL LABORATORY
Area – 319.1 sq.m.
Name of the Equipment
Compression Testing Machine – 1000 kN capacity
Compression Testing Machine – 3000 kN capacity
Electronic Platform Weighing Scale–100 kg capacity
Torsion Testing Machine (Rods & wires)
Impact Testing Machine
Universal Hardness Tester – 2 Nos.
Universal Testing Machine – 40 t capacity
Spring Testing Machine
Universal Wood Testing Machine
Proving Ring – 50 t capacity
Wel-mix Concrete Mixer
Bond Strength Testing Facility
Data Acquisition system – 8 Channels
Digital Displacement indicator-5channels
Digital Load Indicator
Load Cell- 50 t capacity – 2 Nos.
Displacement Sensor-LVDT- 6 Nos.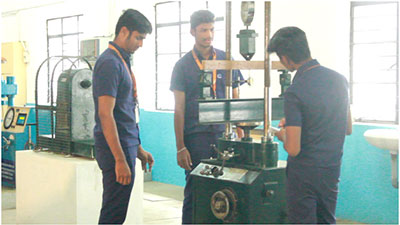 Wood Testing Machine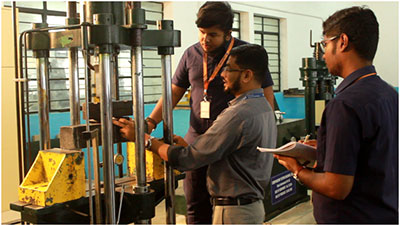 Universal Testing Machine 40T
CONCRETE AND HIGHWAY LABORATORY
Area – 131.25 sq.m.
Name of the Equipment
Marshall testing Machine
Bitumen Ductility Testing Machine
Plate vibrator
Needle vibrator
Abrasion Testing Machine
Automatic Compactor
Devel Attrition Testing Machine
Vee-Bee Consistometer
GEOTECHNICAL ENGINEERING LABORATORY
Area – 924 sq.ft.
Name of the Equipments
Sieve Shaker
Field Density Kit
Variable Head Permeameter
Constant Head Permeameter
Standard Proctor Compaction Apparatus
Swell Pressure Test Apparatus
Consolidation Test Apparatus
Direct Shear Apparatus
Unconfined Compression Strength Test Apparatus
Vane Shear Test Apparatus
Triaxial Apparatus
California Bearing Ratio Test Appartus
Standard Penetration Test Apparatus
Standard Split Spoon Sampler
Post Hole Auger
Plate Load Test Apparatus
Field Vane Shear Test Apparatus
Proving Rings Of Various Capacities (Max 5 T Capacity)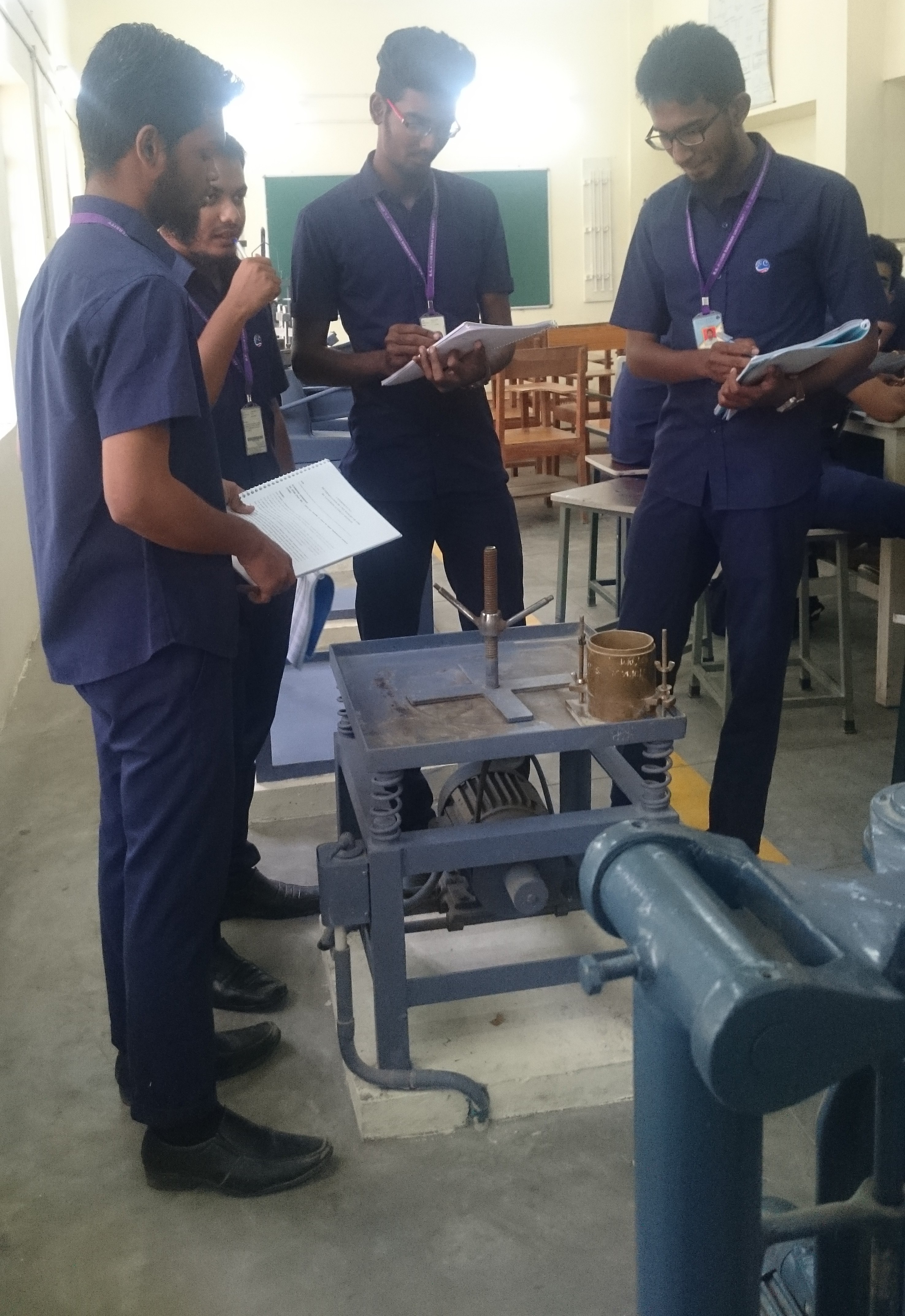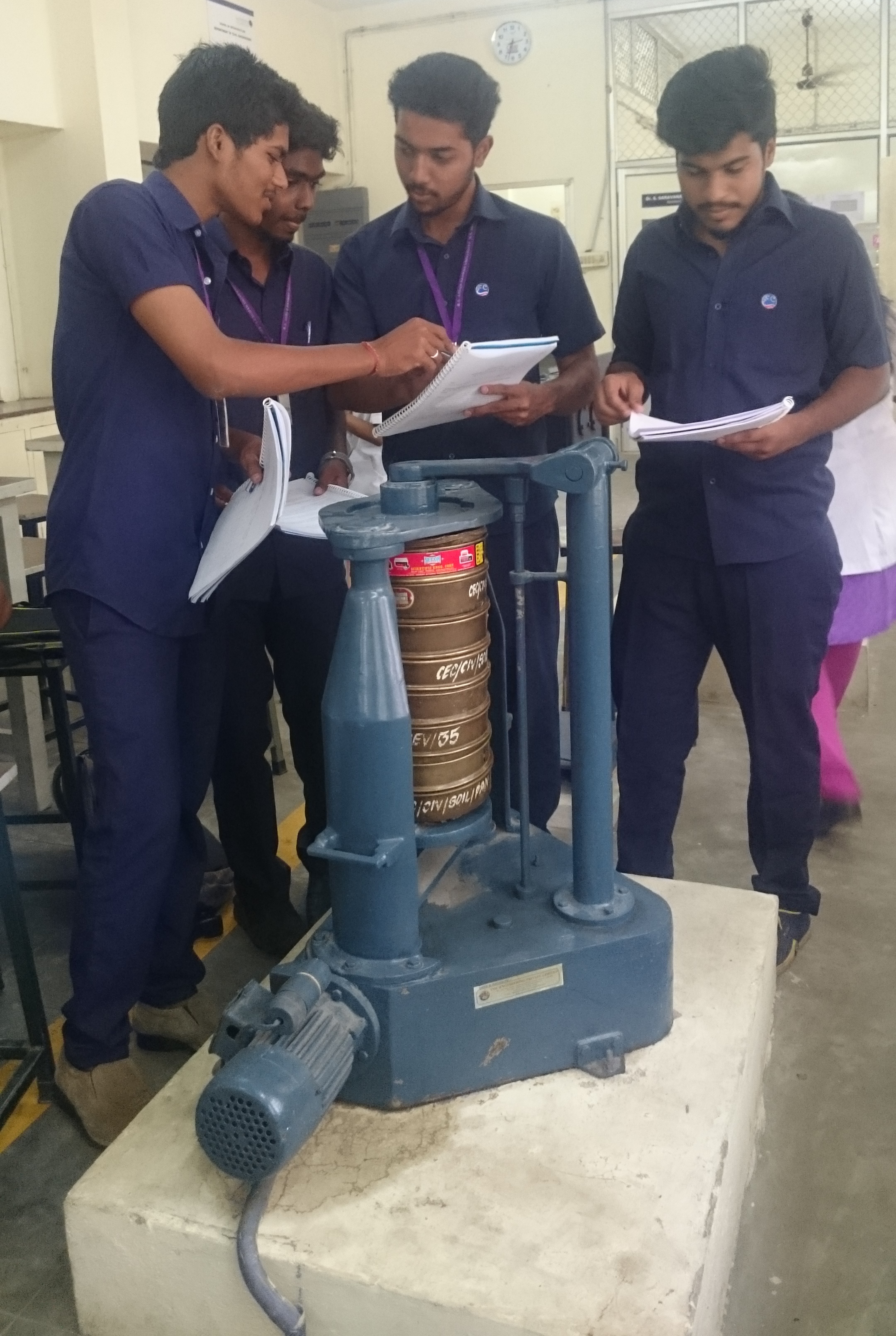 COMPUTER LABORATORY
Area – 156 sq.m.
Name of the Software / Accessories (Except Computer)
INFAN
CODAN Soft
Super Project Management
NISA Soft
STARP 11.5
Smart ENGG
CADS-RC Suite
CADS-SW
SCADDS
STADD Pro.V8.i
Auto civil
FEFLOW
AUTO DESK PRODUCT (125 user)
Primavera P6 (1 user)
Primavera Contract (10 user)
Auto CADD (125 user)
Revit Architecture (125 User)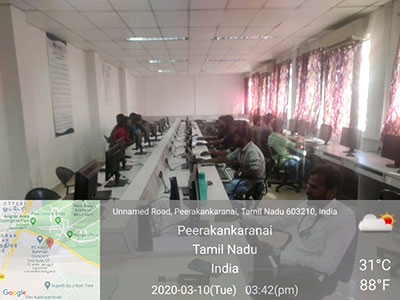 GIS & REMOTE SENSING
Name of Software
Map Info
Arc GIS – 9.3
GIS SOFTWARE – MAPPING SOFTWARE (Bentley Campus Licenses) (5 user licenses)
Bentley Descartes V81
Bentley Map Enterprise
Bentley Point Tools V8i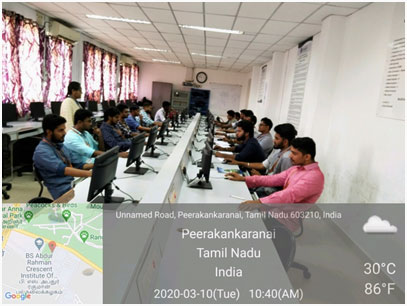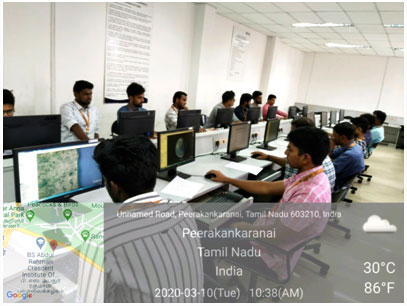 ENVIRONMENTAL ENGINEERING LABORATORY
Area – 120 sq.m.
Name of Software
Atomic Absorption Spectrophotometer
Digital Oxygen Analyzer
Calorimeter
B.O.D Incubator
Digital Direct Reading Conductivity Meter
Digital Ph Meter
Neophelo Turbidity Meter
Flocculator
Analytical Balance
Magnetic Stirrer
C.O.D Kit
Stabilizer
Muffle Furnace
Liquid Digital Conductivity Meter
Electric Bunsen Burner
Dessicators
Chloroscope
Autoclave
Air Compressor
Water Bath
Stopcock for Aspirator Bottle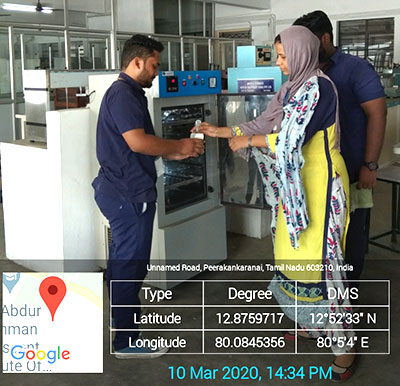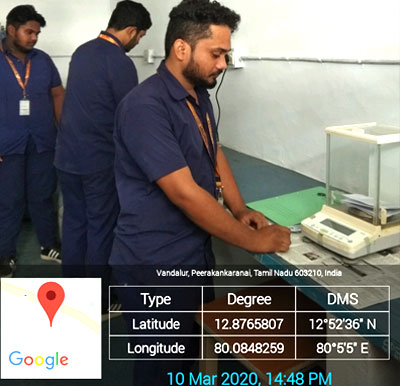 SURVEY LABORATORY
Area – 102 sq. m.
Name of the Equipment
Auto Level – 6 Nos.
Redmini Electronic Distance Meter
Vernier Transit Theodolite -11Nos
Global Positioning System (GPS)
Total Station – 6Nos.
Dumpy Level – 5 Nos.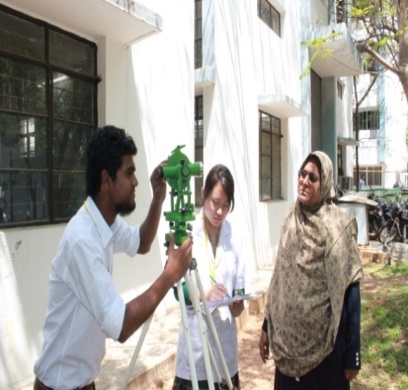 Experiment using Theodolite