Hobby Electronics Club
Staff Co-ordinators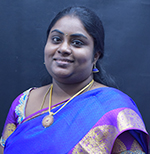 Ms.V.Jean shilpa,
AP/ECE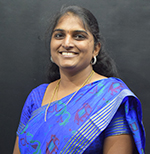 Ms.R.Anitha,
AP/ECE
Hobby electronics club is an elite student development club that focuses on the individual's skill development and innovation. It was started on February 20th2014, in the Department of Electronics and Communication Engineering of B.S. Abdur Rahman Crescent Institute of Science & Technology. This aims to create innovative thinking among students to understandthe development of electronic gadgets in the world today, and also assist students in developing theirown products .Various lectures, workshops, projects as well as various competitions will be heldthroughout the year concerning both analog as well as digital electronics to keep the calendar busy andmotivate the participants to learn.
Our Vision
To identify, focus and create products that can solve a problem. This club will act as a platform for its members to enhance themselves in all aspects of design and development. The club believes that individual importance is a key to success.
"A Vision is not just a picture of what could be, it's an appeal to our better selves and a call to become something more"
How do we achieve all this?
Creating teams
Teams are created with the support of mentors from second, third and final years. By having diverse team, we can achieve efficient knowledge transfer and new learning techniques.
Assigning mentors
According to the individual skills, mentors are assigned for the teams.
Project development
The team should maintain a good rapport with their assigned mentor and develop their projects.
Product development
All the teams will undergo rigorous training in product development, product design, testing, packaging and marketing and now the team will further develop their projects into a fully functional market ready product.
Introduction to start-ups
As a part of the development program, the members will be given deep insights into start-ups and how they can become entrepreneurs and shape the future.
HEC Events in 2019
About Arduino Workshop
Three days hands-on workshop on arduino for First years of ECE is conducted (24-Sep-19 to 27-sep-19).Final years of ECE trained them in basics of arduino, interfacing sensors with arduino.
PITCH IT
Pitch it 2019 is a department level event where students of different years of ECE are asked to submit their proposal for the given problem statement. Students are asked to pitch their ideas for different problem statement given by HEC. Winners will get membership of TSS club of ECE.
HEC Events in 2018
HECX is the event conducted by the hobby electronics club to analyse the student skill. EXPO & PITCHIT was conducted under HECX.
EXPO
This event showcases the student ideas. The projects were evaluated on 3 core areas namely – innovation, implementation and presentation.
Judges > Dr.B.Vijaylakshmi Prof/ECE, Mr.HasanBabu, AP/ECE
Winner: 2nd year ECE students (Smart TV project)
Runner-up : 1st year ECE students (Smart gesture controls)
PITCH IT
This is a new and creative event. This event will give you a basic understanding of how to develop a product for pitching when you have a startup. It's a hybrid event(technical+non-technical) where in the teams will not do the project on spot but will be given a problem statement and will be asked to develop a product(in writing) that will solve the problem. Here they will be given 10-15mins time to discuss and create the Design/sketches of the product & Logic/algorithmic workflow that explainsthe working of the product. The most efficient and innovative idea wins the event.
Winner: 2nd year ECE students
Runner-up: 3rd year ECE students
Students Participation & Acheivements in other Colleges
Third year students participated in PROJECT EXPO & PAPER PRESENTATION organized by SAIRAM ENGINNERING COLLEGE.
The following students won in EXPO & PRESENTATION,
Project Expo: LI- FI AUDIO TRANSMISSION
Ms.Induja, Ms.LillySheela, Ms.Janani
Paper Presentation:- PLASTIC EATING ENZYME
Ms.DeviPriya, Ms.Fazeela Yasmeen , Ms.Nikitha, Ms.Irudyaraj LillySheela Club members Mr.N.Vikram Raj, Mr.M.M. Yedhubooshan, Mr.Visagan.S, Mr.Yashwanth Reddy, Ms.ShireenFarhath, Ms.Santhiya participated in the Drone workshop organized by the department.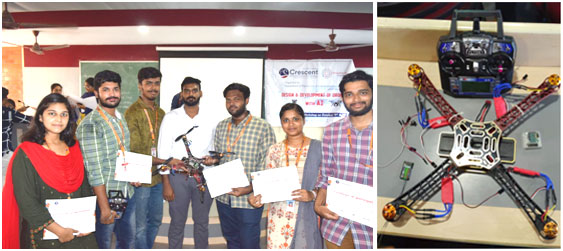 Mr.Rishub.C.R of 2nd year ECE participated in various competition like CODE FESTA, PANDORA BOX, ENGIMA etc organized by SSN institution and won cash prize of Rs.2,500/-
Attended various workshop and coding competition organized by IITM,VIT, SAIRAM Engg. College
Mr.N.Vikram Raj, Mr.Yethubooshan,Mr.Praveen,Mr.Pavithran are club member of 3rd year ECE participated in workshops and competitions organized by various institutions
St. Joseph's College of Engineering – Event: Technojam
Mr.N.Vikram RajWon – 1st place & cash prize of Rs.3000/-
St. Joseph's College of Engineering – Event: Techtrack:
Mr.N.Vikram Raj – Won – 2nd place & cash prize of Rs.2000/-
Sri Sai Ram Engineering College – Event: Arduino Challenge
Mr.N.Vikram Raj – Won – 2nd place & cash prize of Rs.2,500/-
Loyola-ICAM College of Engineering And Technology – Event: Mindflayer
Mr.N.Vikram Raj – Won – 2nd place & cash prize of Rs.700/-
Sri Sai Ram Engineering College – Event: ROBO QUIZ
Mr.P.S.Praveen – Won – 2nd place
Sri Sai Ram Engineering College – Event: Arduino Challenge
Mr.P.Pavithran – Won – 2nd place
Products & Projects
Smart Street Light
Team Members: Thoufeek Ahamed S, SrirambhatM, Vigneshwaran R, Ijaz Ahmed V
Objective
This project will exhibit smart ways of saving electricity in cities by using solar energy for smart street lights. Photovoltaic source will be used as gaining energy and distributing it to the LED's of the street lights. The energy occupied will be stored in a rechargeable battery which will automatically turn itself ON whenever the sunlight is not received to the detectors. Every street light will then work automatically with respect to the presence of sunlight and by sensing the presence of any object using PIR sensors and also explain how the cost of electricity using street lights can be minimized using the above the mentioned parameters for developing the Smart Street.
Requirements
Hardware : ESP8266 NodeMCU,PIR Sensor, 1 Channel 5V Relay, 5V Transformer, Jumper Cables, LDR sensor
Software : Arduino IDE
Block Diagram :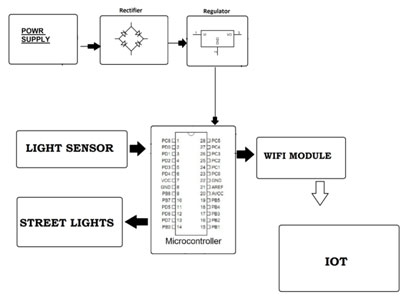 BIRD REPELLER V2.0
Team Members: Mr.Prasanna J, Ms.Karthiyayini R
Objective
The threat posed by birds to economic crops in the farms or at storage facilities requires the deployment of an effective bird deterrent in such locations. Hence,Laser system is used to scare away the birds from the field.
Requirements :
Hardware : ArduinoUNO, ESP8266 nodeMCU,Servo Motor S3003, 2 Channel 5V Relay, Power Supply Circuit (7805), Jumper Cables
Software : Arduino IDE, Blynk Android application
Block Diagram :
Hobby Electronics Club Committee
Student Coordinators – Secretary
Ms.Shaikmohsin, Final Year ECE
Mr.Prasanna.J, Final Year ECE
Pre-Final Year Coordinators
M.M.Yedhubooshan
VikramRaj.N
Kandrattha A Mohammed Fayazuddin
Second year Coordinators
Mr.Naresh
Mr.Rishub C R
Mr.Sandeep