SELF LEARNING:
Department of Electrical & Electronics Engineering is offering a two credit core course – Self learning during VI semester.
This is a mandatory pre-requisite for the student to undertake the major project work.
The student can select the self-learning course based on his/her interest in the area of proposed project work.
Two hour per week is allotted for discussion and interaction with the project supervisor.
As any other course, self-learning course also has six modules. The course content and study materials shall be decided by the respective supervisor and HOD and sent for approval by Dean (Academic).
CAT 1, CAT 2 and Semester End examinations are conducted.
This makes a thorough preparation for the student to undertake his/her project work confidently in the eighth semester.
INDUSTRIAL INTERNSHIP:
Initiative
 As a part of making the students of the department industry ready, a  core course 'Industrial Internship' is included in the curriculum of undergraduate programme.
Implementation:
Mandatory 30 days of industrial internship, in a single slot
 Internship has to be undertaken during the third year summer vacation and the credits will be awarded in the seventh semester.
 Teaching faculty is appointed as the coordinator for the Interns
 No two students are allowed to be in the same site.
Coordinator continuously monitors the performance of the students during the internship.
 After completion of the internship, the students are required to submit a detailed report
Interns are required to present a Poster Presentation.
The Interns should submit the industry evaluated certificate.
 50% weightage is given to the evaluation by the industry and remaining 50% weightage to the evaluation by the committee appointed by the Head of the Department.
The 50 % weightage of evaluation done at the department comprises of (a) 20/50 for viva-voce, (b) 20/50 for the Intern report and (c) 10 /50 for poster presentation.
Selected group of Industries for Industrial Internship:
National Thermal Power Corporation (NTPC)
Steel Authority of India (SAIL)
Andrapradesh Power Generation Corporation
Airport, Chennai
BHEL, Ranipet.
Oil and Natural Gas Corporation (ONGC)
Ford India Limited
L&T Constructions Limited
TN TRANSCO
Kone Elevators and Escalators
Tessolve Services Pvt. Ltd.,
Siemens Litd.,
Ventures Power System India Ltd.,
Power Grid Corporation of India Ltd.,
Integrated Coach Factory
Visakapatnam Steel Plant
BSNL, Chennai
LUCAS TVS, Pondicherry
Southern railway loco works, perambur, Chennai
Ennore Thermal Power Station
KELTRON, Trivandrum
NSR steel Pvt. Ltd, Nagercoil
NSCB, Airport Authority of India, Kolkata
Venture Power Systems, MEPZ, Tambaram
Chennai Port Trust
Control system services, Patna (Bihar)
SUN Automation
CCSM Sugar mill, villupuram
Mahindra World City
QEEE (Quality Enhancement in Engineering Education)
Our institute is announced as best performing institution falling under the category of "QEEE Partner "Institutions, Implying that we are amongst the best Institutions to have leveraged the QEEE program for the benefits of our UG/PG students.
S. No.
Course offered by the QEEE Pilot Program Phase –V, Jan –April 2016
No. Of Students participated and Completed the course
1.
EEB3101

Digital Electronics

34
2.
EEB2214

Design of Feedback in Control Systems

60
Industrial Visits
 Visits to industries are arranged, so that the students will get a real time industrial exposure.  Some of the industries visited by the students are given below.
| S.No | Place of industrial Visit | Date of Industrial Vist |
| --- | --- | --- |
| 1 | Sripermumbur 400/230kV Substation | 08.04.2017 |
| 2. | TechnoCrat Automation | 08.03.2017 |
| 3. | Atomic Power Station, Kalpakkam | 08.11.2016 |
| 4. | Andrew Yule and Company Limited | 18.03.2016 |
| 5. | Smart Grid and System Control Centre, Puduchery | 26.02.2016 |
| 6. | Neyveli Lignite Corporation (NLC) | 15.02.2015 |
| 7. | Sew Euro drive India Pvt. Ltd.., Sriperumpudur | 4.9.2014 |
| 8. | Neyveli Lignite Corporation (NLC) | 7.08.2014 |
| 9. | Thondamandalam Substation & System control Center of Electricity Department , Pondicherry | 20.11.2013 |
| 10. | Numerical Power Ltd Systems, Puduchery | 7.2.2013 |
| 11. | System Control Centre, Puduchery | 26.3.2013 |
| 12. | MAPS, Kalpakkam, Chennai | 22.2.2013 |
| 13. | CPRI, Bangaluru | 13.7.2012 |
| 14. | ISRO, Sriharikota,AP | 26.9.2012 |
| | Load Dispatch Centre, Anna Salai, Chennai | 7.12.2011 |
Innovation Cell
Motivating the students to think laterally and out-of-the-box to generate innovative ideas.
Transforming innovative ideas into products of societal needs
  Faculties mentoring the students to carry out the project effectively by providing required technical guidance.
Filing patents and commercialization of the products in the long run.
Students Achievements
SHAIK ABDUL AYAZ(EEE), HAMAD ARSHAN. C won 2nd place with the cash prize worth of Rs 30,000 in  Chopras Electronic Car Competition at Hayat Regency in   Chennai In  May 2016.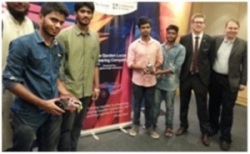 Naveed Shiraj of B.Tech EEE won 1st place in the Solar Lamp Design Contest organized by IEEE Madras Section SIGHT,The Solarillion initiative and IEEE power and Energy Sector at Dr.M.S.Swaminathan Research Foundation , Chennai on 23 April 2013