Photo Gallery
Webinar on "The importance of Ethical Hacking" on 31.08.2021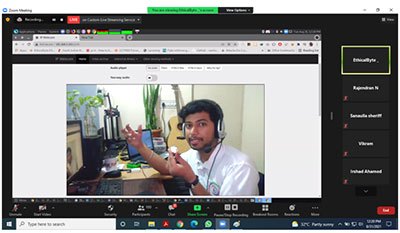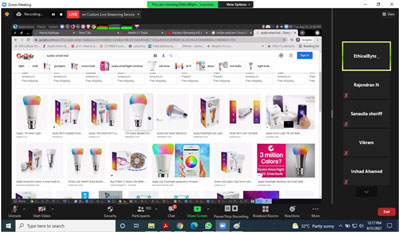 ---
Webinar on "Smartphone Security" – 27th May 2021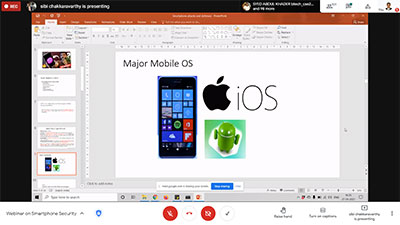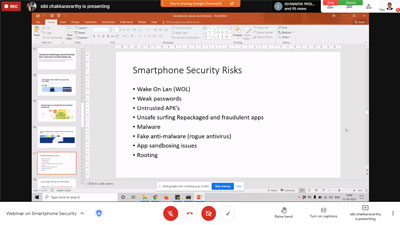 ---
Five Day Online STTP on "Artificial Intelligence and its Impact on Industry 4.0" (26.04.2021 to 30.04.2021)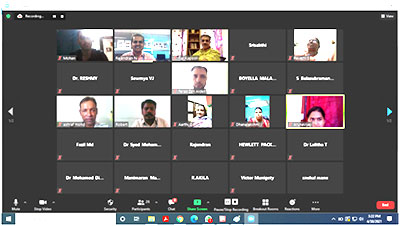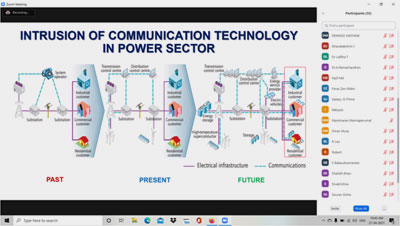 ---
Webinar on "Prag Robotics" for the final year B.Tech. (IT & CSE) students on 01.04.2021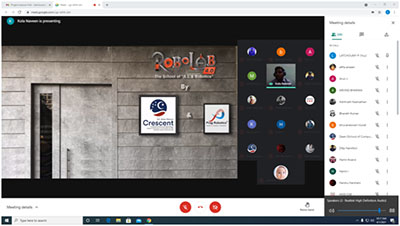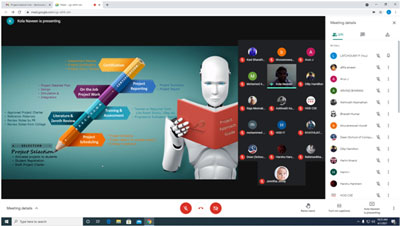 ---
Awareness Session on iOS App Development on 9th Nov 2020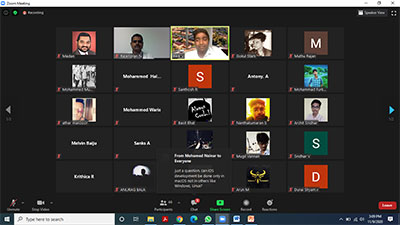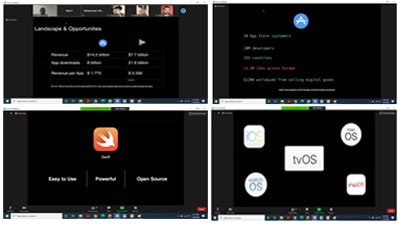 ---
Online awareness session on "iOS App Development" on 15th Oct 2020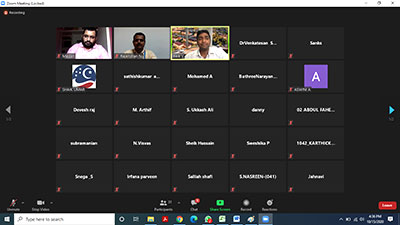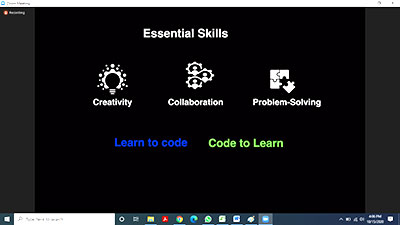 ---
One Day Online Training Programme on "Mobile App Development using App Inventor" 10th Oct 2020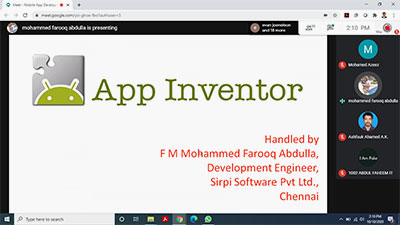 ---
Webinar on "Cyber Security Simplified" on 11th September 2020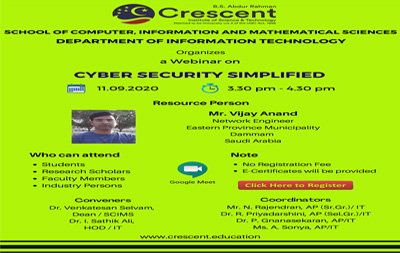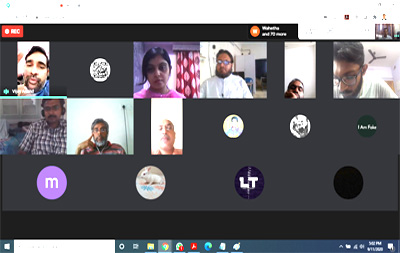 ---
Webinar on "Career Opportunities in Linux and Open Source Software" on 25th August 2020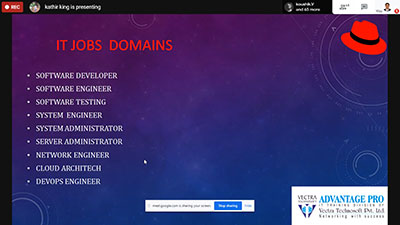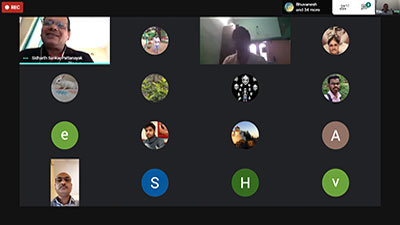 ---
FDP on "Agile Software Development – An Industry Perspective" during 25-29 June 2020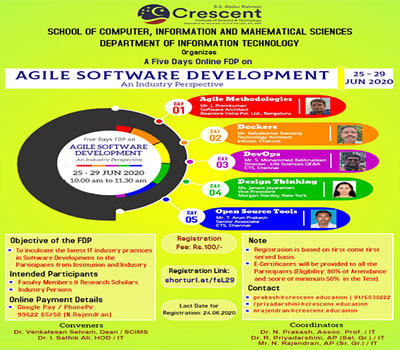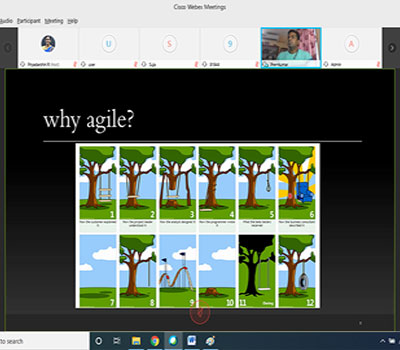 ---
Webinar on "Cyber Forensics and Current Challenges" on 13th June 2020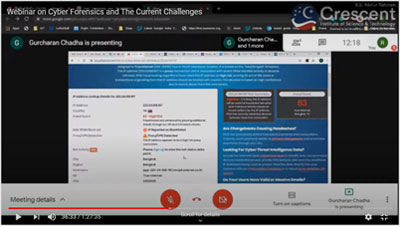 ---
Webinar on "Opportunities in E-Commerce" on 05th May 2020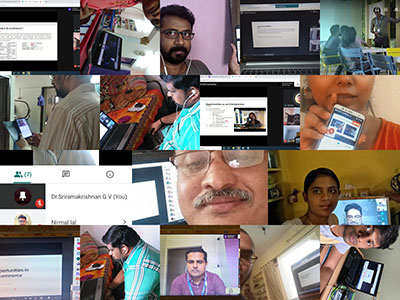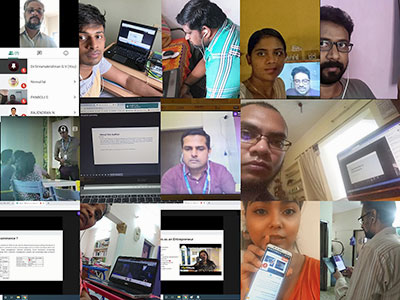 ---
Seminar on Accelerate Your Career Through Excellence in RPA on 13.03.2020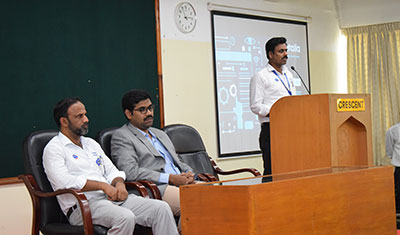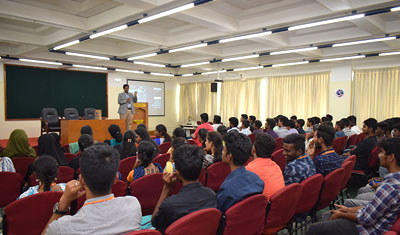 ---
Three days Short Term Training on "Ethical Hacking & Cyber Security" (11.03.2020 to 13.03.2020)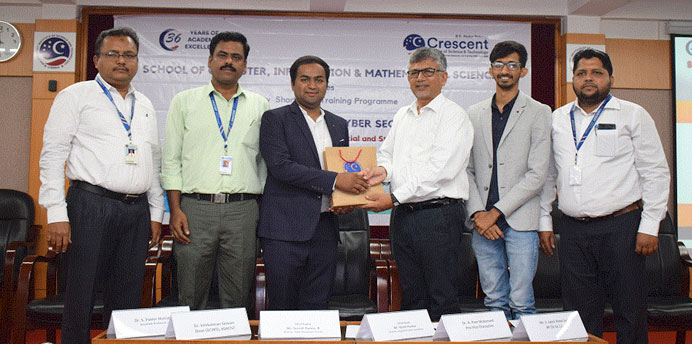 ---
Seminar on "Future of Cyber Security and Machine Learning in IT Career" by Mr.ManojKashyap, Certified Ethical Hacker & Technical Trainer, Star Certification and Dr. R. Dinesh Babu, Director, Brainswig, Chennai, conducted on 17.02.2020.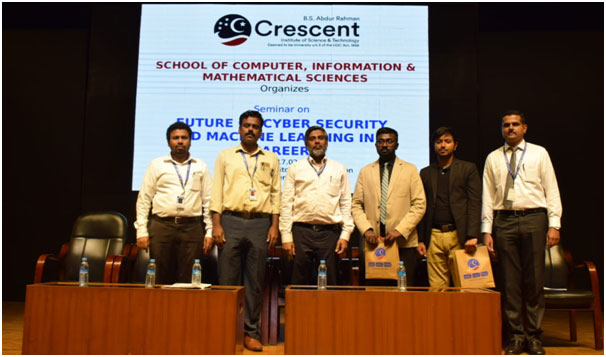 ---
Alumni Mentoring Session on "Staying Focused and Productive in the Digital Age" by Mr. Srihari Sridharan, (2001-2004 batch) Principal Member of Technical Staff, Athena Health India Pvt. Ltd., Chennai on 07.02.2020.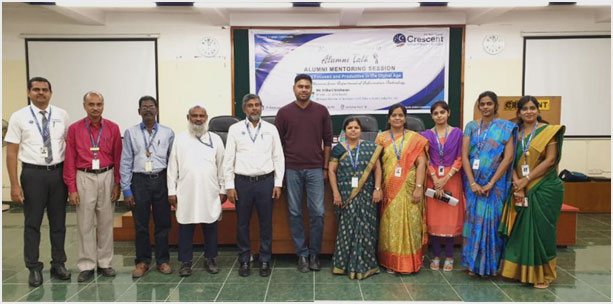 ---
Inauguration of value added course Red Hat – RHCSA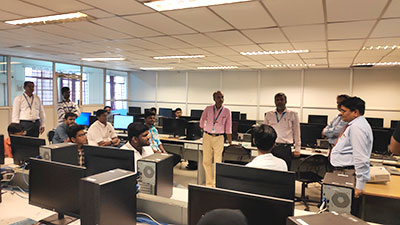 ---
Industrial visit to Bioscience Research Foundation (BRF), for III year B.Tech& II year M.Tech IT students on 26.09.2019.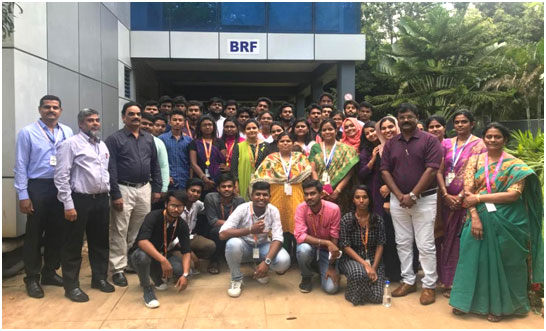 ---
Alumni Talk by Mr.SamriddhMangotra (2001-2005 batch), Assistant Vice President (Finance Change Delivery) of HSBC, Gurgaon, Haryana, India conducted on 18.09.2019.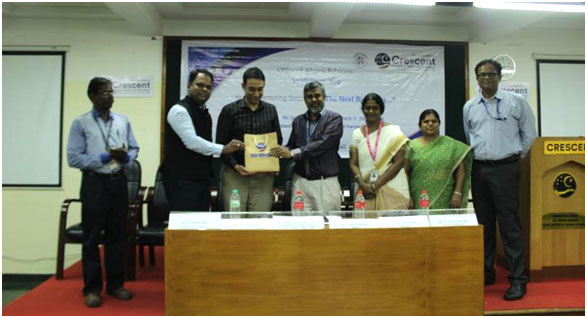 ---
Seminar on "Augmented Reality and Virtual Reality" on 31st January 2019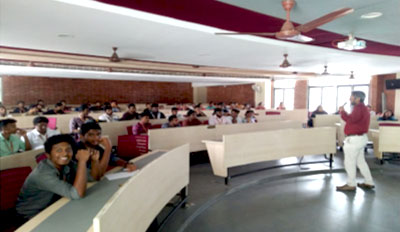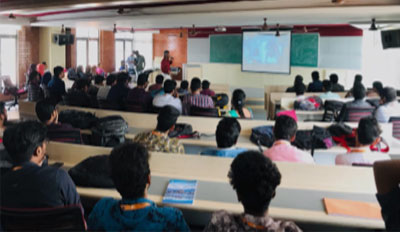 ---
One day workshop on "Big Data Analytics using Hadoop" on 12.09.2018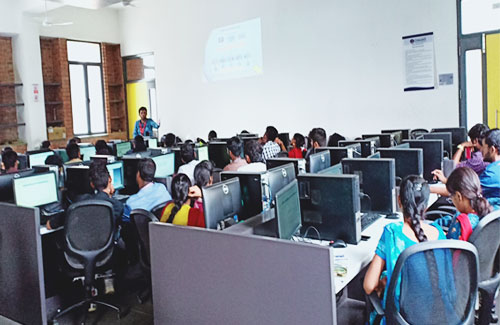 "Virtualization VMware vSphere" was arranged on 4th of August, 2017 and handled by the resource person Mr.Usman, Trainer from AMOS Technologies, Chennai.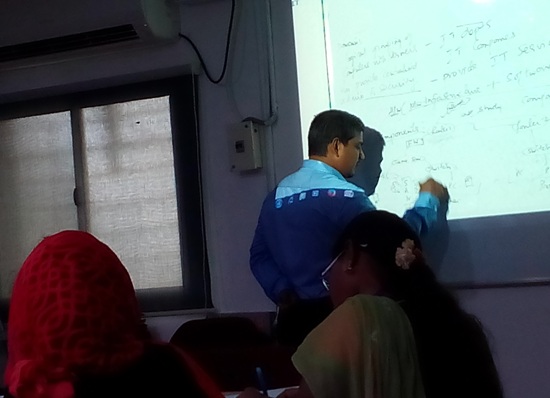 Seminar on "Next Generation Technologies" was arranged on 16th of August, 2017 and handled by the industrial person Mr. S. Mohamed Bakkrudeen, Associate Director, Life Sciences – QE & A Practice, Cognizant Technology Solutions, Chennai.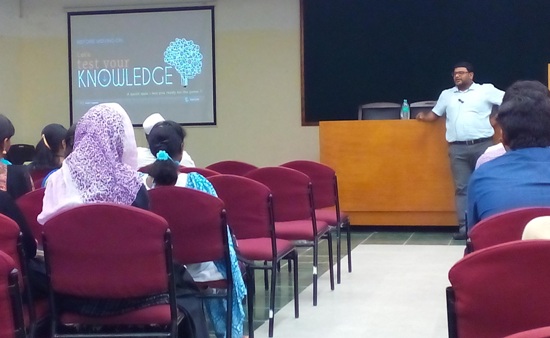 Department of Information Technology has organized a Seminar on "Importance of Data Structures in IT Industries" on 12th September 2017 at 2.30 p.m. in ECE Seminar Hall. Resource person was Mr. K. Subramanian, Director, Sirpi Software Pvt Ltd., Chennai. He is an alumni of Crescent, completed his Bachelor's Degree in 1998. The seminar was coordinated by Ms. P. Usha, Associate Professor / IT and Mr. N. Rajendran, Assistant Professor (Sr.Gr.) / IT.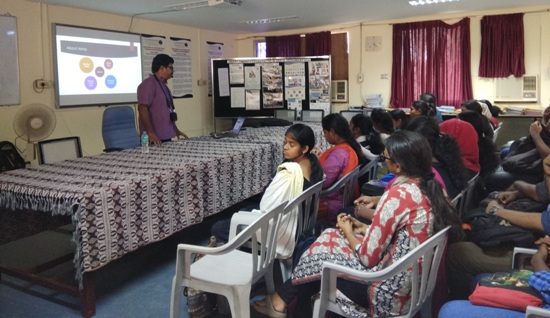 One day Workshop on "Data Analytics using R tool" organized by Department of Information Technology, B.S. Abdur Rahman Crescent Institute of Science and Technology, Chennai, on 06.09.2017. The venue of the workshop is Project Lab, Department of Information Technology, BSACIST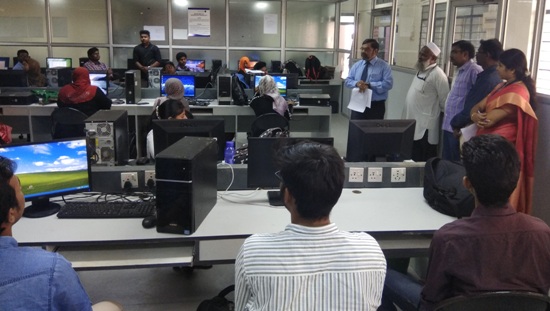 The School of Computer, Information and Mathematical Sciences organized a Six Weeks Value Added Oracle iLearning Certification Programme in "Java Fundamentals and Java Programming" at B.S. Abdur Rahman Crescent Institute of Science and Technology, Chennai.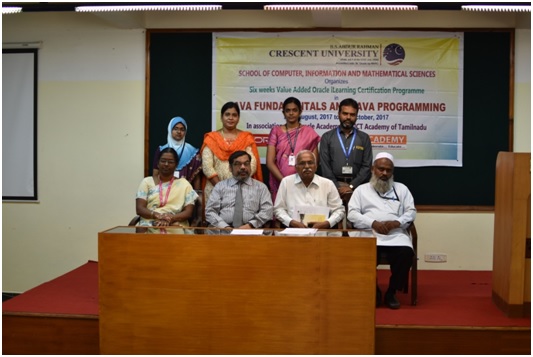 Inauguration of SIT activities held on 04.10.2017. Chief Guest : Mr. Hemachandran Loganathan, (Alumni of 2000-2004 batch)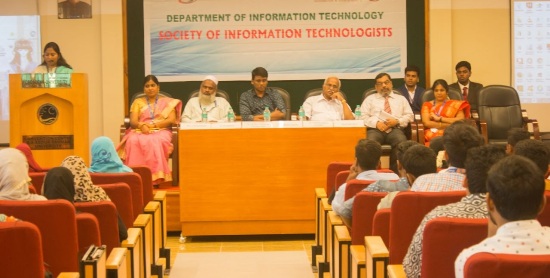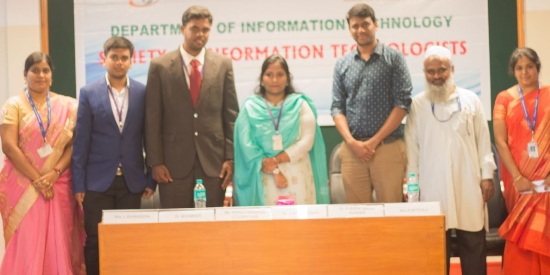 Inauguration of Society of IT' 2012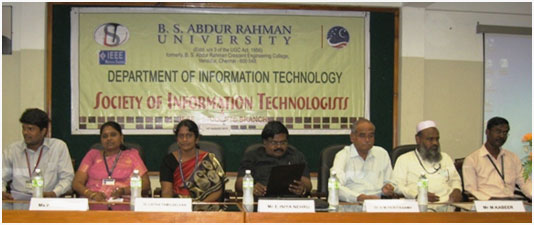 Workshop conducted on Open Source Software, Mr.Shanu Shukmeer, delivered a lecture about Awareness of open source software on 27th January 2012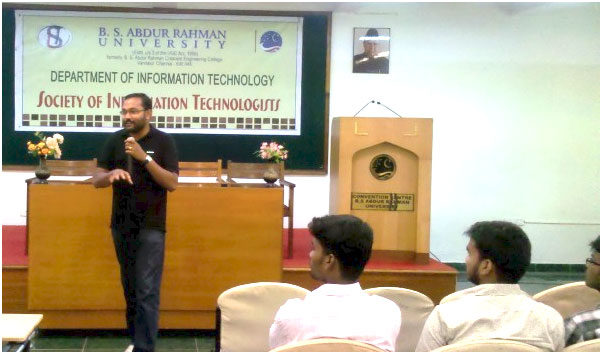 Workshop on Maya Software is Conducted on January 3rd 2012, Mr. Lenin Christopher, Technical Head, Sinper System, Chennai, and conducted technical and practical sessions for the Faculty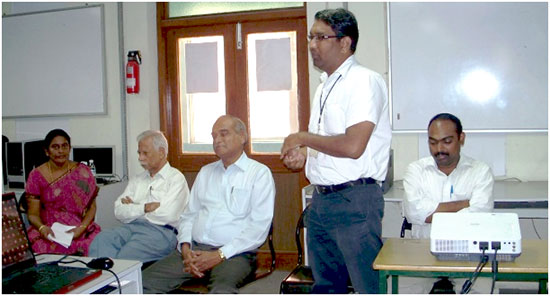 National Level Technical Symposium "ICON '2K11" was organized on 27th September 2011. The function was inaugurated by our Alumni Mr.Sriramkumar .V.H, Co founder & Director, Watchy.in Technologies and delivered a lecture on "Current Trends in IT industry"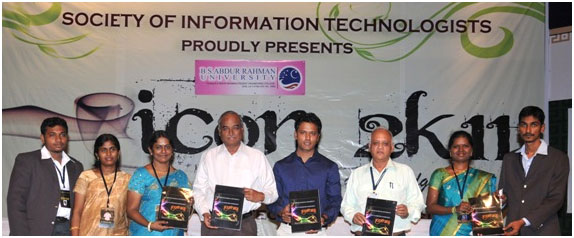 Inaugural function of Society of Information Technologists (SIT) was held on 17th August 2011 and the chief guest Mr.ANAND MOHANRAM (Delivery Manager for Ecommerce practice in Retail Business Vertical, Infosys) delivered the special lecture on "Latest Trends in IT".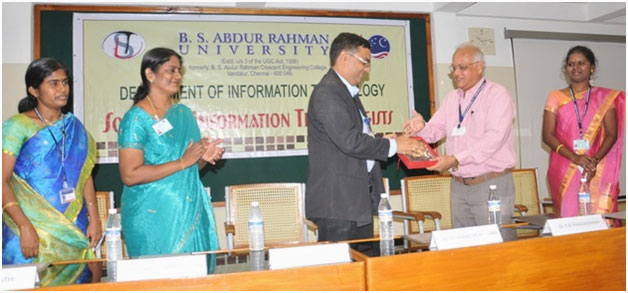 Workshop on Cybercrime – March 2nd 2011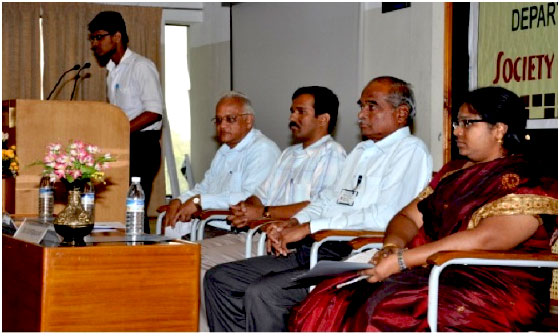 National Conference on Recent Trends in Information Technology conducted on 12th August 2010. Chief guest –Mr.Viswakumar Ramasubramanian Vice President (Technology) CTS, Mr.H.R.Mohan, Associate Vice-President, The Hindu
M.Tech Information Technology Inauguration on 9th August 2010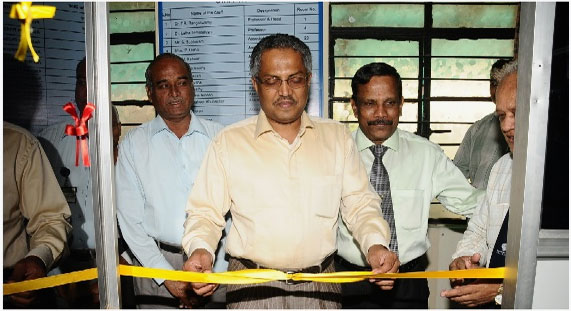 QIP-WEB COLLABORATION & TECHNOLOGY held during 18-5-2009 to 31-5-2009. Chief guest-, Dr.Rhaymend Udhiraj, DCSE, Anna University, Dr.T.V.Geetha, DCSE, Anna University, Chennai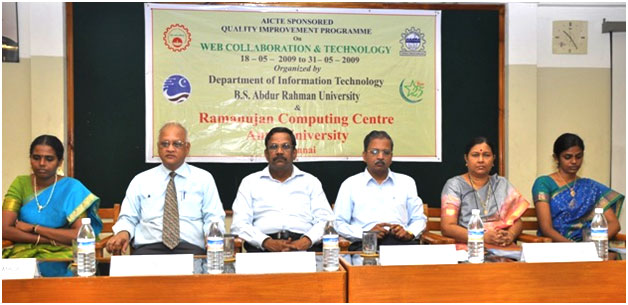 Workshop on Animation Technology conducted on 2nd April 2009. Chief Guest- Mr.Uma Shankar, Country manager, Aditya Infotech Ltd, Mr. S. Velmurugan, Director, Sniper Systems & Solutions, Chennai,Mr. Karthick Subramaniam, South Indian Technical Manager, Aditya Infotech Ltd.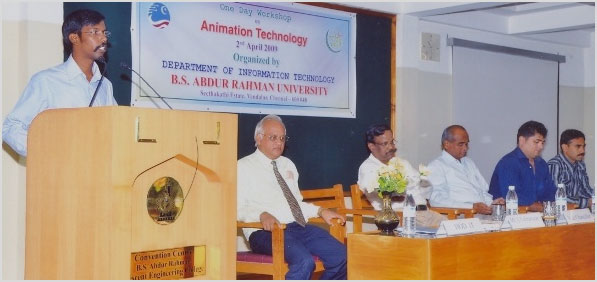 CRESTECH 2005 – Dr.T.R.Rangaswamy (HOD/ICE) and Principal Dr.V.M.Periyasamy facilitating the Chief Guest with the Memento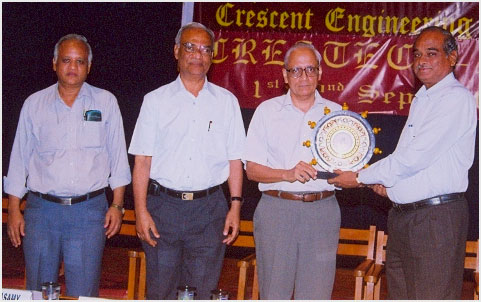 CRESTECH 2004 – Prof. S.P.Reddy (HOD/ IT), Dr. T.R.Rangaswamy (HOD/ ICE), Dr. R.Ganesan (HOD/ Mech), Dr. R.Srinivasan (HOD/ CSE), Dr. K.P.Mohamed (Principal), Chief Guest, Dr. T. Thiyagarajan (HOD/ EEE), Dr. E. Chandrasekaran (Prof/ Civil)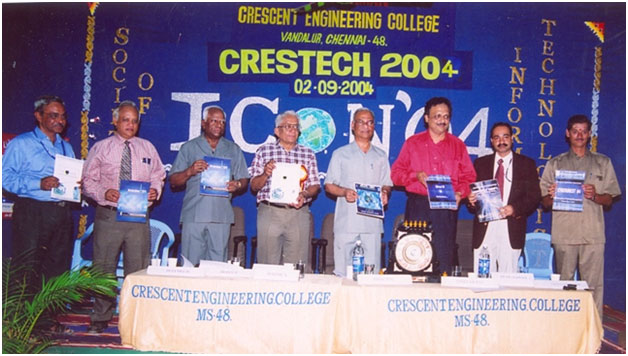 ---
INDUSTRIAL VISITS
Organized industrial visit to News 18 Tamilnadu and Puthiyathalaimurai for Pre-final B.Tech students on 22nd March 2017
Organized Industrial Visit to Indian Space Research Organization (ISRO), Sriharikotta for Final year B.Tech, M.Tech and Second year B.Tech students on 8th March 2017
Organized Industrial Lab Visit Programme for third, final year B.Tech (IT) and first year M.Tech (IT) students to Vi Micro Systems Pvt.Ltd, Perungudi, Chennai on 7th November, 2016
Organized Industrial Visit Programme for second year B.Tech (IT) students to Sansbound Solutions Pvt Ltd, Chennai 21st April, 2016
Industrial visit programme for B.Tech- IT second & third year students and M.Tech –IT second year Students to Tata Consultancy Services (TCS) at Siruseri on 27th October, 2014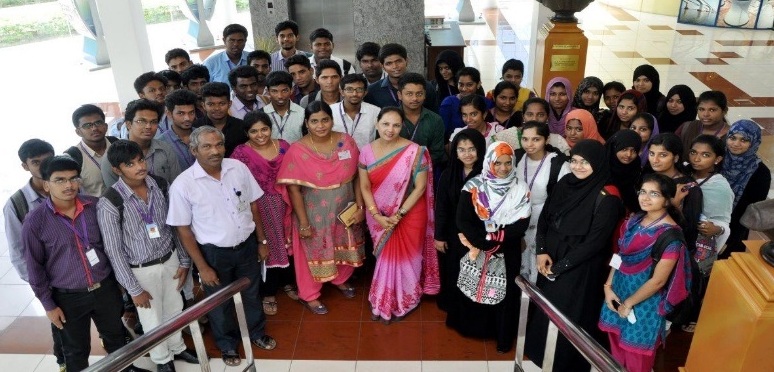 Industrial Visit by B.Tech II year students to L&T Infotech
To encourage the students and give them an industry exposure and industrial knowledge practically industrial visits are arranged regularly.