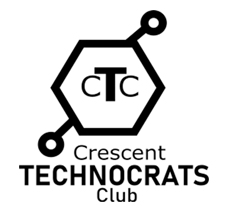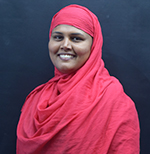 Name:
Dr. W.Aisha Banu
Designation:
Professor & Co-ordinator – CTC
Qualification:
M.E.,Ph.D
Office Number:
044-22751347
Email ID:
aisha@crescent.education
Overview
Crescent Technocrats Club was established as the technical club of B S Abdur Rahman Crescent Institute of Science and Technology. The main focus of the club is to get students on board for technical skill improvement through various kind of programs. Within a span of three months Crescent Technocrats Club contributed and conducted various activities.
Tagline
The Tagline of the Club is to "Coalesce to Accomplish" which means come together as a whole to do wonders.

Vision
To bring up an enthusiastic, focused, motivated club for students and channelize and shape creative minds to achieve greater heights using technology.
Mission
To inculcate the spirit of leadership and social responsibility among individuals and to develop meaningful external associations and networks to exponentially multiply the relevance, reach, and power of its initiatives.
Objectives of the Club
1. To Conduct inter-College and Intra University contests and events.
2. To Conduct Guest lectures from renowned industry professionals. (Preferably small bites of 10 to 20 minutes.)
3. Arrange theoretical and practical Workshops on emerging trends.
4. Encourage and guide students to build mini projects for micro and small-scale.
5. Develop small software to supplement University needs.
6. To conduct gaming events and game development contest.
7. Facilitate internship and hands on industry training in partnership with organizations.
8. Give an insight of industries by on field visits and practical training.
Goal
To achieve a state where every active participant of the club gets an insight of the industry by hands on training and internship.
1. Establish a team for web development, designing, animation, illustration and social media marketing to help micro and small-scale industries and retailers.
2. Help small and cottage industry/retailers' technical aspects.
3. Have a network of students with different mind sets to work.
4. Have a ready-made team to act during crisis situation.
5. Conduct more events and bring the hidden skill in students.
Outcome
The university will be able to cater its technical needs through the club. The Club can also conduct events where school children can participate so as to give them an insight of our university. Small bites from industry professionals can be uploaded on social media handles to enhance its reach.
Students will be able to grasp their aspiration to learn, earn and develop their skills.
The club also plans to facilitate internship and hands on industry training, so that the students can get an intuition of the university.
The club was proposed by energetic students, B S Abdur Rahman Crescent Institute of Science and Technology is an Institution which takes a leap before other university thinks.
Goals Reached
1. Organised over fifteen events within a span of five months.
2. Currently two are going on.
3. Brought in a sponsorship from sandwich square.
4. Connected with over 100+ alumni.
5. 100+ registered Club members.
6. Launched a book with ISBN to benefit small and retail businesses.
Board of Directors of the Club
Chief Executing Officer
Mohamed Irfan P/ B Tech / CSE / 3rd Year
Joint Chief Executing Officer
Fahima Sanobar Shalin K / B Tech/ CSE / 3rd Year
Public Relations Officers
1. Aarthi S/ B Tech / ECE / 4th Year
2. VIJEY VIRUTHAGIRI V / B Tech / Mech / 3rd Year
Managing Director
1. Mohamed Arif M / B Tech / CSE / 3rd Year
2. Mohamed Imran M / B Tech/ CSE / 3rd Year
Director Technology
1. Rafeeka / BCA (MAIS) / CA / 3rd Year
2. Visvas / B Tech / CSE / 3rd Year
Director Research and Development
1. Rohith / B Tech / CSE / 3rd Year
2. Yuvanshankar A / B Tech / CSE / 3rd Year
Director Finance
1. Jesina Begam N / B Tech / CSE / 3rd Year
2. Karthikcalakshmi E N / B Tech / CSE / 3rd Year
Director Marketing
1. Mariam Aafreen / B Tech / CSE / 4th Year
2. Sumaiya Fathima / B Tech / ECE / 2nd Year
Director Events
1. Sneha B / B Tech / IT / 3rd Year
2. Mohamed Yousuf / B Tech / IT / 3rd Year
Directors Content Development
1. Fahmidha Shereen / B Tech / ECE / 4th Year
2. Nivedha K / B Tech / CSE / 3rd Year
Directors Central Link Desk
1. Chinthala Divyasri / B Tech / CSE / 3rd Year
2. Mettu Jahnavi / B Tech / CSE / 3rd Year
Directors Photography
1. Kowshic S / B Tech / ECE / 4th Year
2. Haja Javed Ahmed /B Tech / CSE / 3rd Year
Directors Design
1. Snega S / B Tech / CSE / 3rd Year
2. Vishali A /B Tech / Bio Tech / 2nd Year
Directors Collaboration
1. Ashraf S / B Tech / CSE / 3rd Year
2. Israth Reefa / B Tech / CSE / 3rd Year
Director Projects
1. Prathima Lakshmi / B Tech / Bio-Tech / 2nd Year
2. Raziya sulthana T / B Tech / Bio-Tech / 2nd Year
Executive Committee Members
1. Chirumamilla Sathwika / B Tech / CSE / 3rd Year
2. Sandhu Divya / B Tech / CSE / 3rd Year
3. Kishore Kumar S / 3rd Year / IT / 3rd Year
4. Priyadharsshni S / CSE / 3rd Year
To know more about the visit, us in our Social Media Handles
https://www.linkedin.com/company/crescent-technocrats-club/
https://www.facebook.com/crescent.technocrats.club/
https://twitter.com/crestechnocrats
https://www.instagram.com/crescent_technocrats/