Research Promotion Policy
1.1 Purpose
The policy establishes the research ecosystem and framework within which academic staff, Research Scholars, Postgraduate and Undergraduate students, organizations and research institutional partners to conduct research.
1.1.1.Organizational Scope
B.S.Abdur Rahman Crescent Institute of Science and Technology has a Research Advisory committee, and Research Board which facilitates and monitors research activities. The total Research and Development activities are organized into the following three categories.
1. Academic Research (Ph.D. Programme)
2. Sponsored Project and Consultancy
3. IPR and IIC
The institute has a well organized structure for research and Vice chancellor is the chairman. Each research category mentioned above is monitored by Dean (Research), Director (CSD) and CEO (CIIC) respectively. The research Board formulates and updates research policies as per the UGC norms, recommends faculty for approved research supervisors, takes all strategic decisions. The Institute – Administrative structure for monitoring research activities is given below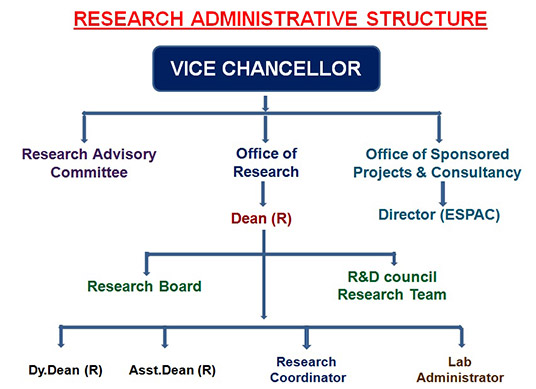 All the faculty members are encouraged to conduct research in the focused as well as interdisciplinary areas of research.
Faculty members are appreciated with appropriate monitory incentives for their publications in either WEB of Science and Scopus indexed journals and the fund received from the government agencies for the project proposals.
Faculty members with Master Degree are permitted to pursue Ph.D. under Part Time mode in the B.S.Abdur Rahman Crescent Institute of Technology and other reputed institutions with full salary.
The institute has set KPI for faculty members to publish research articles.
The UG and PG projects shall be research focused and lead to publications in the indexed journals.
Every faculty member with Ph.D. qualification shall apply for a minimum of one funded project. The required seed money for internal projects will be provided by the Institution.