Career Counseling
About Us
BSA Crescent Institute of Science & Technology has meticulously planned to make all its outgoing students employed. The BSACIST had installed the infrastructure, employed well experienced faculty, designed and delivered programs that help enhancing the communication and soft skills which are required for making the students employable. An excellent system is in place that considers all the issues that make a student employable. The BSACIST has been successful for the last 37 years, in employing all the students who have registered and eligible for placement through its offices located across the country. About 20 trained personnel work extensively to make the students ready for recruitment by the Industry.
The center was inaugurated by Shri. G. Subba Rao, IAS (Retd.,) former Secretary to Govt. of Gujarat in the presence of Tan Sri Dato' Sri Prof. IR. Dr. Sahol Hamid Bin Abubakar, Vice Chancellor, Dr. A .Azad, Registrar, Dr. S Kaja Mohideen, Dean (SECS), Dr, Harinarayana, Director, Centre for Energy, Dr. Nikhat M Hamza, Director HR, Faculty Training & Development, Dr. Raja Hussain, Deputy Registrar & Dr. K. Ganesh, Director, Placement & Training. B. S. A. Crescent Institute of Science & Technology.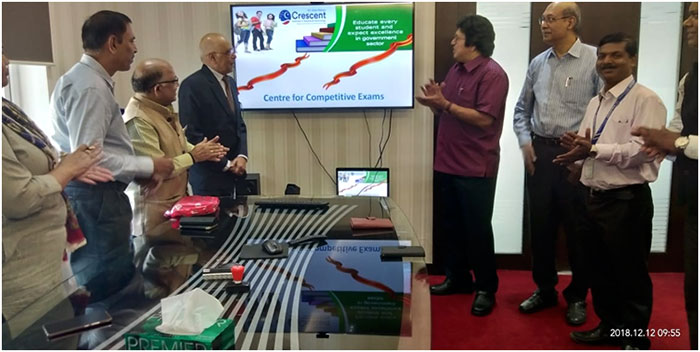 Career Counseling
BSA Crescent's doing career counseling in a way that it creates awareness and also motivates the students to select the better career. Counseling refers to the process of helping students by providing guidance, moral support, and exploring solutions for the problems being faced.
Students often seek out assistance when they are trying to choose a job for the first time. Many of them always in a dilemma whether they should go for a job or pursue higher study.
Career guidance plays a pivotal role in these situations. Career guidance and counseling not only helps the students to find out the jobs also help them to get motivated for searching better to the best opportunities.
In order for a student to become the most marketable candidate for their prospective job path, career counseling services may be the most valuable resource for college students.
Career counselors help enhance a student's academic experience by providing the opportunity to apply classroom learning in a pre-professional work environment. By helping students find these opportunities, students are able to more easily determine if a certain academic major or career path is right for them.
At BSA Crescent, Career Guidance and Counseling goes with academics simultaneously.
Activities
Broadening knowledge, skills, and abilities by sharing different types of hands on training, videos, presentation etc.
Improving decision making skills
Increasing self-esteem and motivation
Building interpersonal effectiveness by different types of group activities
Maximizing career opportunities by giving different types of placement opportunities
Promoting effective job placement
Strengthening employer employee relations
Besides the above, Counseling is also organized through external agencies like Sanker IAS ACADEMY, & CADD CENTER etc.