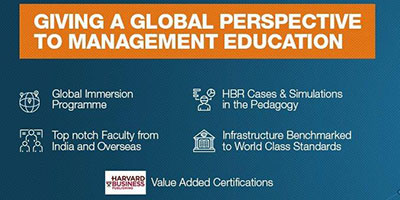 Crescent School of Business
MBA with Strategy Focus
Eligibility for Admission
Crescent School of Business, a part of the BSA Crescent Institute of Science & Technology, has been established to create leaders of tomorrow. The cohort will experience a uniquely crafted curriculum and pedagogy which are administered to them through faculty who have been carefully selected for their achievements in both academics and industry. CSB believes in education for life.
This 2 years programme is designed to be a rigorous time which pushes students beyond their comfort zone to bridge both skill and competency gaps that are essential in today's managers to face rapid digital innovation challenges.
Eligibility
All applicants should possess a Bachelor's degree in any discipline from a recognized institution
Graduate with minimum 50% marks
Final year students can also apply
Candidates who are in final year of Bachelor's degree, are also eligible to apply. However such candidate's will have to submit the original certificate of having graduated and mark sheet of the final year degree examination while joining the course
Valid score in any of the following common entrance examinations: CAT, XAT, CMAT, ATMA, MAT, GMAT, TANCET & Crescent School of Business Admission Test (CSBAT)
Working Experience: Not compulsory but desirable
Should have good communication skills
Should be able to converse, read and write in English given that the medium of instruction of the CSB' MBA with Strategy Focus is English.
The decision of the admissions committee shall be final in deciding the selection of a candidate.
Admission procedure
Submit the Application Form either by visiting the campus or online
Review on scores in Common Admission Test and previous academic performance
Interview with the CSB Panel
Admission will be availed for the deserving candidate
Registration open for 2020 – 2022
Classes begin from: September 2020*
*Date of commencement of classes will be announced based on UGC/AICTE guidelines in the light of COVID-19 crisis
Specializations offered
Marketing, HR, Finance, Operations, Systems, International Business, Entrepreneurship & Family Business, Logistics & Supply Chain, Banking & Financial Services, Healthcare Management and Business Analytics
Documents Required for NRI Admissions
1. NRI candidates should produce Employer Certificate of the sponsor – either Father or Mother.
2. Application form with all details furnished.
3. Photocopies of the following
(I) NRI bank account passbook (front page photocopy)
(II) Passport copy of the parent having NRI status.
(III) Passport copy of student (except for NRI-S candidates)
4. Equivalence Certificate issued by the Association of Indian Universities (AIU)
5. NRI Status Certificate in respect of father/mother.
6. Certificates of Educational Qualifications
10th Std/12th Std/Degree/Transfer Certificate / Migration Certificate (as applicable to specific
programme)
7. Medical Fitness Certificate
8. Undertaking Duly Countersigned By Parent/Guardian.
Admission, Transfer and Change of Course
Admission to various programs will be subject to verification of facts as in the original certificates /documents of the candidates. Management reserves the right to cancel admission if any discrepancy is noted, even at a later point any time after the admission. Such a decision will be final and binding on the candidate.
Admission offered to a candidate who has been provisionally admitted to a programme will stand cancelled if he/she does not submit the relevant documents in original pertaining to admission (such as Mark Sheet, Transfer Certificate, Migration Certificate and Conduct Certificate, etc.) to the concerned Admissions Officer before the stipulated date. NRI student who has been granted admission to a particular programme shall not be allowed to change the programme subsequently.
It is the responsibility of the candidates to ascertain whether they possess the requisite qualification for admission. If the candidates furnish mark sheets of the qualifying examination only in grades, the minimum marks pertaining to the grade obtained in the course will be taken into consideration while determining the marks in the subjects.
Sl. No.
Name of the Programme
Tuition Fee per Year
1
MBA with Strategy Focus
Tuition & Other fees
Rs 3,74,000 (Year 1)
Tuition & Other fees
Rs 3,40,000 (Year 2)
Total fee
Rs 7,14,000
Fee includes International Immersion Programme, Harvard Business Publishing – Case studies, Simulations & online course certifications, Industrial visits, Examination fees and Membership fee of professional association.
*Advance Fee
1
Advance Fee
Rs 50,000
*Candidate admitted to the 24 Months MBA with Strategy Focus Programme, Class of 2020-21 will have to deposit a advance fee of INR 50,000, which will be adjusted in their 1st installment of tuition fee.
Hostel Fee
*Hostel Fee per Year – AC
1
Establishment Charges
Rs 1,00,000/-
2
Boarding Charges (Advance)
Rs 50,000/-
Total
Rs 1,50,000/-
*Caution Deposit (Refundable) (one time payment): Rs.5000/-
*Hostel Fee per Year – Non-AC
1
Establishment Charges
Rs 40,000/-
2
Boarding Charges (Advance)
Rs 55,000/-
Total
Rs 95,000/-
*Caution Deposit (Refundable) ( one time payment): Rs.5000/-
Curriculum
CSB's 24 months Fully residential MBA with Strategy Focus is designed to be a rigorous programme which pushes students beyond their comfort zone to bridge both skill and competency gaps that are essential in today's managers to face rapid digital innovation challenges.
Exclusive course materials containing core foundational concepts and business frameworks taught at the Harvard Business School
Curriculum feedback and design from Industry practitioners, through our Advisory board of Members.
Skill-based Leadership training
Technology Business Incubation centre
Courses with focus on Artificial intelligence, machine learning & business analytics
All the courses will have final deliverables the nature of which will differ with each course. Each course is meant to push students to think, introspect and apply their learning at the workplace. At CSB, we don't believe just in education for employment, we believe in education for life.
The core courses taught at CSB include the essentials of finance, strategy, marketing, operations, Human Resource Development and IT management. These courses are taught by outstanding faculty visiting from Premier Indian B school Ivy League Institutions.
The following core courses are being offered in the academic year 2020-21:
Synopsis – Programme Structure and Curriculum
| Particulars | MBA with Strategy Focus |
| --- | --- |
| Duration of the Course | Two Years |
| No.of Terms | 4 |
| Total credits | 122 |
| Core Courses | 20 |
| Elective Courses | 14 |
| Practical Courses | 4 |
| Seminar / Viva / Internship / Project | 3 |
| Eligibility criteria and selection process | As per the AICTE norm |
| On line courses | The students have the option to take 2 electives courses per term through online / swayam / MOOC portal with prior approval. Credit Transfer for these courses will happen after submitting grade certificate for these online courses |