About Us
Centre for Sustainable Development (CSD) (formerly ESPAC)
ONGOING GOVERNMENT SPONSORED PROJECTS AS ON DEC 2020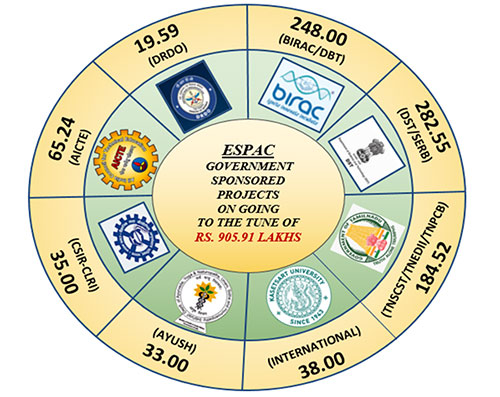 ONGOING NON GOVERNMENT SPONSORED PROJECTS AS ON DEC 2020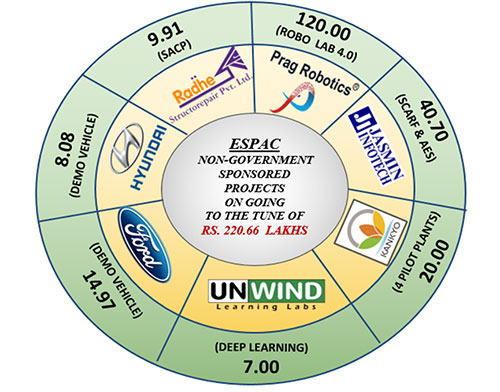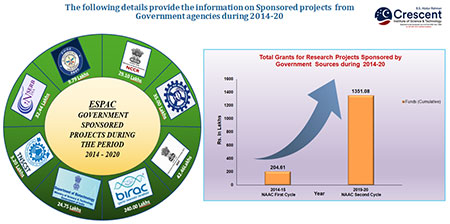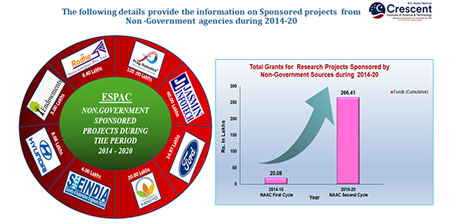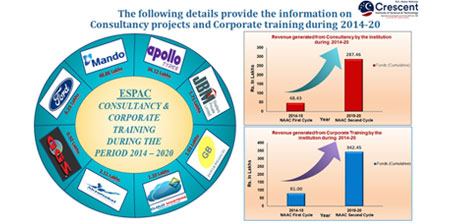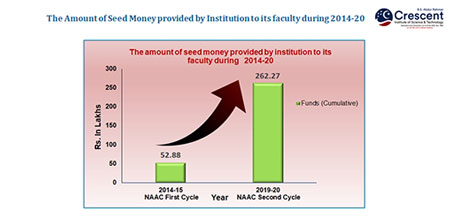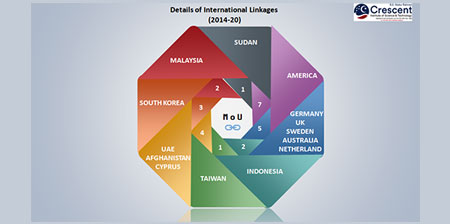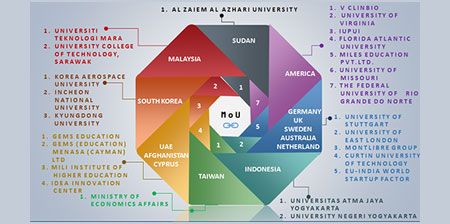 Summary Sheet (2014-2020)
S.No.
Description
No. of Projects
As on June 2019
No. of Projects
As on Dec 2020
Value in Rs.
Value in Rs.
As on June 2019
As on Dec 2020
1
Completed / Sanctioned funded projects & funds received
75
98
1327.15
(Rs. in lakhs)
1617.49
(Rs. in lakhs)
2.
Testing / Consultancy & revenue generated
223
241
248.23
(Rs. in lakhs)
287.46
(Rs.in lakhs)
3.
Corporate Projects & revenue generated
13
22
246.18
(Rs.in lakhs)
342.45
(Rs.in lakhs)
4.
Seed money given to staff research projects
371
391
256.77
(Rs. in lakhs)
262.27
(Rs. in lakhs)
ABOUT THE CENTER
Sponsored research is a major strength of an institution. Adequate research infrastructure facilities are essential to conduct research in thrust areas of societal needs. The state of art facilities are being created with the help of funds from major funding agencies such as DST, DBT, CSIR, DRDO, MoIT, MoEF, DAE-BRNS etc. and also from the contribution by the Crescent management. Realizing the importance, a separate Center for sponsored projects and consultancy has been created in B.S.Abdur Rahman Crescent Institute of Science and Technology. The present Director of the center is Dr.T.Harinarayana. The centre has identified more than 60 funding agencies for sponsored projects. The center facilitates the faculty to execute sponsored research, Industrial Consultancy, collaborative research and other revenue generation schemes with reputed institutions. Through such innovative suggestions and ways, Crescent faculty responded with nearly double the number of project proposals submitted worth nearly 20 crores during the current year 2017-18. A workshop to promote sponsored projects, writing skills on a research paper, IPR etc. issues has been organized during March and Aug. 2018 and more workshops are being planned for all the new faculty and the faculty writing proposals for the first time. This will further promote sponsored research and sponsored projects. This also helps our young students with innovative ideas and paves a way to file patents as well which in turn helps to start the Start-up companies.
Objectives Of The Centre
The centre will ensure involvement of faculty members in the activities of sponsored research, consultancy and Institute-Industry interactions.
Encourage faculty to write project proposals in thrust areas of both pure and applied research with the objective of creating new knowledge/ developing new technology.
The centre shall act as a catalyst to create state-of-the-art facilities through funded projects in the Institute to do research in cutting edge technology.
Guidelines shall be offered for smooth implementation of sponsored projects
Conduct workshops/ invited lectures on recent themes for sponsored projects by inviting experts from the funding agencies.
The centre shall also evaluate the progress of the on-going projects periodically
Promote Institute – partnership through industry visits, in-plant training in industries for students and faculty members and consultancy work.
Develop and promote entrepreneurs among students through training programmes and incubation of their innovative ideas.
Facilitation Activities for promotion of research
Work shops to identify thrust areas and write project proposals
Invited lectures by experts from funding agencies to identify the areas of their interest
Participation by faculty members in seminars , workshops and conferences
Work on project feasibility for proof of concept through UG and PG students' project work
Presentation of the proposals by faculty before in house expert committee members for suggestions and comments
Support to interested faculty members for writing the proposals
Brief meetings with HODs and faculty members for follow up action
Incentive schemes to faculty members for promotion of research activities