Founder of the Institution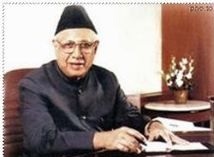 Alhaj Dr. B.S.Abdur Rahman
An uncommon man,
of deep conviction and perseverance;
his vision runs Crescent today
for the benefit of the students, teachers, staff members,
alumni and the society.
Destiny is not a matter of chance, but of choice. The man who changed his destiny hailed from a middle-class family at Kilakarai, Ramanathapuram District, Tamil Nadu, reaching the pinnacle of success by his ultimate choice of perseverance and elegance. Dr. Buhari Syed Abdur Rahman, a well known personality in the field of Education, Economy and Industry and was also a Philanthropist par excellence. He was an ardent lover of the welfare of society who believed that "the world is for the winner when business is not just about self but also about society". Dr. Abdur Rahman felt education to be the key to solve socio-economic problems of the society. Hence he founded a number of educational institutions through which a multitude of students have been benefitted.
Amidst his numerous achievements as an entrepreneur and educationist, B.S. Abdur Rahman Crescent Institute of Science & Technology has always been his very special brainchild that has been providing unparalleled quality education until now and in the future. Deep-rooted in his values, this institution is growing stronger each day with its aspiration to evolve as a world premier institution.
AWARDS

In recognition of his services in the field of education

Aligarh Muslim University students union conferred in the Honorary Life Membership in the presence of Prof. Fariqui, Vice Chancellor and Prof. Abdul Hassan Siddique, the Pro. Vice Chancellor of the Institute.
Sathyabama University awarded Honorary Doctorate

CONTRIBUTION

He feels that education is the key that opens the solutions to the socio economic problems pf the society. Hence he founded the following institutions through which all his educational and literacy activities are carried out.
The Seethakathi Trust
All India Islamic Foundation
Islamic Studies & Cultural Centre

SCHOOLS

Crescent Residential Matriculation Higher Secondary School Vandalur, Chennai 600 048 (1968) A fully residential school that caters to the needs of children from India & abroad. The first educational institution started by him.
Crescent Matriculation Higher Secondary School for Girls, Chennai 600 006 (1976).
Nagore Crescent Matriculation Higher Secondary School for Girls, Nagore 611 002 (1992).
Madurai Crescent Matriculation School for Girls, Madurai 625 014 (1994)

COLLEGES

Thassim Beevi Abdul Kader College for Women, Kilakarai.

FINANCIAL

For betterment of education, he has extended financial assistance to a number of schools, training institutes and Colleges. The names of few such institutions:

1.Schools

Hyrathul Jalalia Higher Secondary School, Paramakudi
Mela Pallivasah Girls Higher Secondary School, Ilayangudi
Al-Hilal Matriculation School, Thondi, Ramnad District
Colombo Alim High School, Ramnad
Syed Ammal Higher Secondary School, Ramnad
Muslim Higher Secondary School, peraiyur, Madurai District
Crown Matricuation School, Madurai
Seethakathi Matriculation School, Nethaji Nagar. Chennai
Muslim Women's Association Matriculation School, Chennai
Muslim Higher Secondary School, Melapalayam, Tirunelveli – 5
Adi-Dravida Primary School, Melapalayam, Tirunelveli
Rajah's Higher Secondary School, Ramanathapuram
Quide-Millet Memorial School, Puliangudi
Swartz Higher Secondary School, Tiruppattur, Ramnad District

2.Training Institutes and Polytechnics

Mohd Ismail Polytechnic and Technical Training Institute, Tirunelveli
Al-Ameen Khajamian Industrial Training Institute, Trichy
Al-Ameen Buhari Alim Technical Institute, Ilayangudi
Al-Ameen Polytechnic, Erode

3.Colleges

Sadakathullah Appa College, Palayamkottai
Dr. Zakir Hussain College, Ilayangudi
The Muslim Arts College, Thiruvithancode
Justice Basheer Ahmed Sayeed College for Women, Chennai
The New College, Chennai
Wakf Board College, Madurai
Jamal Mohamed College, Trichy
Quide-Millet College for Men, Chennai
Sethupathy Govt. Arts College, Ramanathapuram
Syed Mahmood Hassan Memorial Muslim Girls College, Bharaich
Law College, Aligarh Muslim University, Aligarh

4.Other Institutions

Bazam-e-Niswan Charitable Trust, Bangalore
Cancer Care Trust, Research Foundation, Indore
Indian Publications Ltd., New Delhi.

RURAL DEVELOPMENT

MEDICAL CARE

To provide better medical facilities to the rural masses at their doorstep, he started a well-equipped hospital at Kilakarai, which was inaugurated by Mr. R Venkataraman the then President of India. Besides he has assisted many such hospitals in various other villages.

a.HOSPITAL

Yousuf Zulaikha Medical Centre, Kilakarai, Ramanathapuram District
This hospital has out-patient and in-patient facilities, clinical lab with all diagnostic equipment. The hospital is conducting regular medical camps in rural and remote villages, to provide easy accessibility to the medical facilities available in towns and cities.

b.Assisted with Funds

Primary Health Centre, Velanoor

c.Motivated

Shifa Hospital, Adirampattinam, Thanjavur, District
K.M.T. Hospital, Kayalpatnam, V.O.C. District
The Crescent Hospital, Chennai

YOUTH WELFARE ACTIVITIES

He feels that a sound mind in a sound body is a healthy trend of development of the youth in this country. Hence much importance is being given to NSS, NCC, Scouts and other youth activities in all his institutions. Hence to promote sports activities and to imbibe sports culture in the minds of youngsters, he constructed and donated a stadium with all facilities for indoor games, gymnasium and a gallery to Tamil Nadu Govt. under the purview of Sports Authority of Tamil Nadu during 1997. The stadium was inaugurated by Prof. A Anbazhagan, Hon'ble Minister of Education, Govt. of Tamil Nadu, in the presence of Shri. Dhanushkodi Athithan R, Minister of State, (Department of Youth Affairs & Sports ), Government of India. The stadium was named as Seethakathi Sethupathi Stadium, which depicted a touch of communal harmony in the minds of the people.

SOCIAL WORK

He is the founder of UNITED ECONOMIC FORUM through which he has organized a number of economic development activities and encouraged social work.

ORPHANAGES

He has founded and financially aided the following Orphanages:

A.FOUNDED

Al-Mumin Seethakathi Children Home, Sakkaraikottai, Ramanathapuram District
Al-Mumin Umar Pulavar Children Home, Ottapidaram, V.O.C. District
Al-Mumin Shahul Hameed (Wali) Children Home, Thanjavur, Thanjavur District

Al-Mumin K.T.M.S. Hamid Children Home (Girls), Kilakarai, Ramnad District.
Al-Mumin Malik Dinar Children Home (Girls), Thiruvithancode.

B.FINANCIALLY AIDED

Muslim Orphanage Committee, Tirunelveli
Munavara Mahalir Mandram, Pudur, Madurai
Al-Ameen Orphanage (Boys), Erode
Al-Ameen Orphanage (Boys), Pudur, Madurai
Al-mumin Children Home, Gingee

OTHER ACTIVITIES

A. FIFTH INTERNATIONAL ISLAMIC TAMIL LITERARY CONFERENCE

Sponsored by the Seethakathi Trust founded by him. This conference was held at Kilakarai from 30th December 1990 to 1st January 1991.
The conference inaugurated by Dato Samivelu, Minister of Malaysia was well attended by Tamil Scholars from different of the world, namely Srilanka, Singapore, Malaysia, Hongkong and U A E. The three-day conference had different sessions on various aspects of Tamil Literature and nearly 24 books were released. The valedictory function was presided over by Dr. Kalaingar M Karunanidhi, the then Chief Minister of Tamil Nadu.

B. ALL INDIA MUSLIM WOMEN'S EDUCATION CONFERENCE

Sponsored by the Seethakathi Trust and All India Islamic Foundation founded by him. This conference was conducted at Cresent School Campus, Vandalur, Chennai – 48, from 21 to 23 December 1996. It was inaugurated by Prof. K Anbazhagan under the Presidentship of Justice Fathima Beevi, former Governor of Tamil Nadu.

The conference concentrated on the topic namely "Education, Employment and Entrepreneurship of Muslim Women". This conference was well attended by Muslim women from India and abroad. The valedictory session was presided over by late Thiru G K Moopanar, M.P., Dr. Thahir Mahmood, Chairman, National Minorities Commission gave the valedictory address.

C.NATION & THE WORLD

A Bi-monthly magazine in English, published from New Delhi being promoted by Mr. B.S. Abdur Rahman Serving the cause of our nation in general and weaker sections in particular.